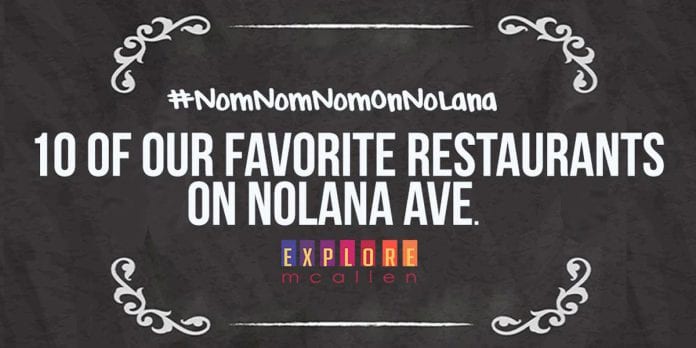 McAllen is bustling with food choices for every palate. Traditional tastes, healthy eats and international cuisines can be found throughout the city, but Explore McAllen is highlighting the popular and ever-growing choices found on Nolana Avenue. So, if you find your stomach growling at work or want to try something new, we highly recommend these 10 restaurants on Nolana.
Palenque Grill
Flavor combinations that dance in your mouth? Yes, please. Palenque Grill infuses flavors of the North Pacific Coast of Mexico that have progressively gained a reputation as one of South Texas's most preferred places to eat. One of our favorite dishes has to be the Parrilladas. With choices including shrimp, beef/chicken fajitas, al pastor, carnitas and mollejitas, once you hear the sizzle from the skillet heading your way, your mouth will instantly water.
Palenque Grill is located at 421 E. Nolana Ave. You can drool over their menu here!
La Jaiba Mexican Seafood Grill
La Jaiba has savory Mexican food and seafood, but what really sets them apart are their healthy tacos. Yes, you read that right: healthy tacos. These delicious ceviche tacos are wrapped in thin slices of jicama and topped with avocado. If you want to indulge, they make some succulent fajita nachos, seafood enchiladas and seafood pasta. Don't take our word for it, though. Go see for yourself!
La Jaiba is located at 400 W. Nolana Ave. Like them on Facebook!
Kumori Sushi
It's every sushi lover's dream at Kumori. Offering healthy alternatives and only the freshest ingredients available, Kumori Sushi has taken the Rio Grande Valley by storm as one of the best sushi restaurants in McAllen. Their assortments of hot and fried rolls, refreshing salads and savory desserts means that this restaurant has something for even the most finicky of eaters. The only problem you'll encounter is deciding which roll to get!
Kumori Sushi is located at 400 W. Nolana Ave. Take a look at their menu online!
Pollito/Gumbo's Deli
Sharing a space in McAllen, Pollito and Gumbo's Deli also share the same vision: bringing alternative dishes that are not only transforming the fast food industry, but also giving visitors and residents healthy and fresh choices. Pollito incorporates mesquite grilled chicken and sides with authentic Mexican flavors. Gumbo's Deli has a range of salads, ciabattas and parfaits. Visiting them in McAllen is perfect for groups wanting to eat healthy.
Pollito/Gumbo's Deli is located at 815 W. Nolana Ave. Find Pollito and Gumbo's Deli on Facebook!
Cowboy Chicken
Rotisserie chicken is this restaurant's specialty. Cooking all-natural chicken over wood-burning fire, guests can enjoy a wide range of healthy, all-natural and gluten free dishes that never compromise flavor. Their world famous enchiladas made with all-white meat and rolled in corn tortillas topped with their housemade tomatillo-sour cream sauce made quite the impression with us! Come enjoy the warm comfort and delicious meals that await you at Cowboy Chicken.
Cowboy Chicken is located at 1020 W. Nolana Ave. Read more about the their story here!
Doña Tota
You've never had a true gordita unless you've tried Doña Tota. From pork, chicken and their specialty fillings, Doña Tota has authentic Mexican cuisine for any taste bud. After you're done with their savory gorditas, go for dessert! That's right, their gorditas de dulce provide the perfect amount of sweetness that completes every meal.
Doña Tota is located at 2812 Nolana Ave. For their complete menu, visit them online!
Khan's Grill
At Khan's Grill, customers have numerous choices of Asian-style noodles, fresh vegetables, lean cut meats and spices that create a perfect Mongolian stir-fried dish. After you've chosen your ingredients, it will be cooked on the grill right in front of your eyes! It's a method that has captivated the entire Rio Grande Valley and has made it a popular destination in McAllen. It's delicious, nutritious and, as the restaurant puts it, GRILL-I-CIOUS©!
Khan's Grill is located at 137 E. Nolana Ave. Like them on Facebook!
The Quarter New Orleans Kitchen
Fulfilling and satisfying, The Quarter is a must-stop location when in McAllen. This New Orleans-style kitchen and taproom has been enticing people across McAllen and the Rio Grande Valley since 2014 with their large selection of 100+ beers and classic delicious dishes. They have great lunch specials during the workweek, and their Sunday Brunch specials have become a staple for residents and visitors alike. If you ask Explore for one of their favorites, it's hands-down their Barbacoa Bowl that includes barbacoa, homemade potatoes, cheese, Poblano sauce, fried eggs, house salsa and a topping of pico de gallo. We promise that when you go, you won't be disappointed!
The Quarter is located at 100 E. Nolana Ave. Take a peek at some of the scrumptious food that awaits you here!
Gamehaus Gastropub
Games, food and fun? That's Gamehaus Gastropub! You can grab some of their delicious Gamehaus sliders and school some friends or coworkers with some classic arcade games, foosball, pool and table shuffleboard. Gamehaus has a full menu of sliders, burgers, wings, appetizers and drink specials. It's one of our go-to places when we want to watch a game with some friends.
Gamehaus Gastropub is located at 2109 W. Nolana Ave. You can look at their food and drink specials here!