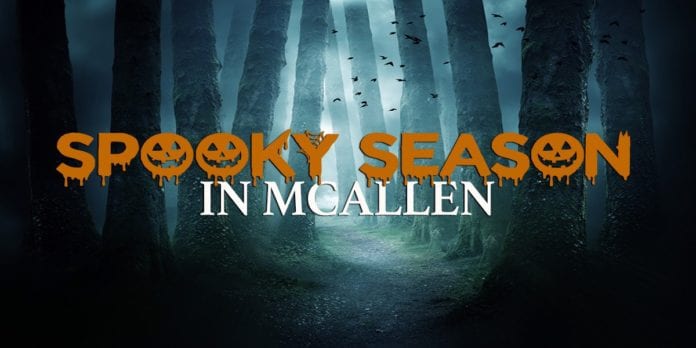 Spooky season is upon us, and there are tons of things to do in McAllen for everyone! Not only for the kids but for the kids at heart as well (Yes, you)! From upcoming Fall Festivals to other creepy-crawly events, here's your guide to Halloween weekend (and week) in McAllen!
For the Kiddos:
St. Paul's 55th Annual Fall Festival
October 27, 3018
4:00PM – 8:00PM
2nd St. and Pecan
A family-friendly event that all will enjoy. Come and join us for a Trunk or Treat, rides, games, costume contest, cake walk, great food, vendors, and so much more! All of the community is welcome! FREE to enter.
Trunk or Treat
October 31, 2018
6:00PM – 8:00PM
23rd St. and Dove Ave.
There will be a mini festival in our huge closed parking lot where you will see many different kinds of vehicles decorated as monsters/scary spooky skeletons and much more. There will be security on the premises along with all candies are closed/wrapped. Come experience a safe, friendly trick-or-treating experience!
Trick or Treat at MPL
October 31, 2018
4:00PM – 7:00PM
23rd St. and Nolana Ave.
If you want to take your little ones trick or treating, but you want to spend it indoors, swing by the McAllen Library! Put your costume on and head to the library! Dress your little ones up in their favorite costumes and trick-or-treat in a safe, friendly environment.
4th Annual Tricks & Treats for the Kids
October 31, 2018
4:00PM – 7:00PM
17th St. and Chicago Ave.
This fun afternoon will be hosted by Suerte Bar & Grill. Round up the kiddos and bring them downtown for some trick or treating at some of your favorite bars in Downtown McAllen!
For the Kids at Heart
The Throwback Party: Halloween Edition
October 26, 2018
10:00PM – 2:00AM
17th St. and Chicago Ave.
Tres is taking you on spooky journey through the sights and sounds of all things 90s and early 2000's! This is a Halloween Edition of Our Throwback Dance Parties!
They will also have 90's Costumes Encouraged, 90's themed visuals, and Drink Specials!
For everyone!
A Harry Potter Halloween -VSO Concert II
October 26, 2018
8:00PM – 10:00PM
Ware Rd. and Expressway 83
Go out and enjoy music from Phantom of the Opera, Night on Bald Mountain, The Rite of Spring and of course, Harry Potter and the Sorcerer's Stone all put together by Valley Symphony Orchestra. Harry Potter fans everywhere are encouraged to dress up in their spookiest costumes and attend a fun evening of full of music, visuals and entertainment to remember!
Boo Bash
October 31, 2018
5:00PM – 8:00PM
N. Col. Rowe Blvd. and Quamasia Ave.
Go out to Mr. Gatti's on Halloween Night for a time of spooky fun! There will be a costume contest, special games, special guests, candy, prizes and more! Kids buffet is free when they come in costume and with a paying adult!
*Everyone must purchase a buffet to enter.
Get Spooky With It!
No matter where you decide to go trick-or-treating, remember to be safe and have fun! Make sure you take photos while you're there are tag us on Instagram! We love to see our Explorers exploring McAllen. Use #ExploreMcAllen so we can track the photos and share away! Stay spooky y'all!