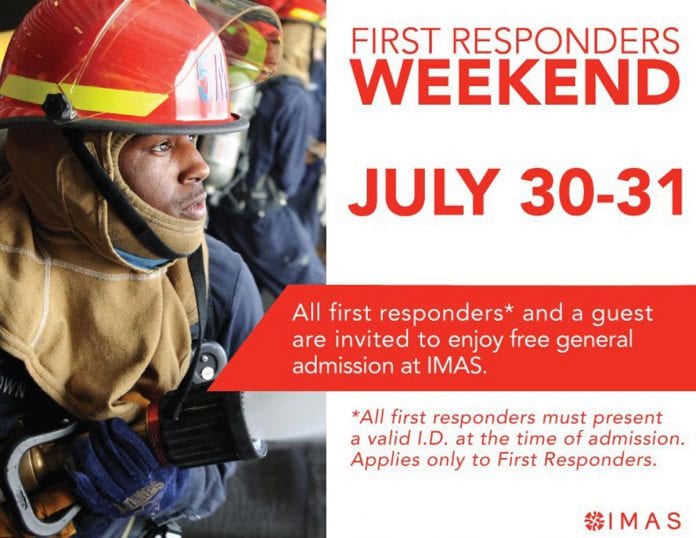 For everything they do, all first responders and a guest are invited to enjoy FREE general admission at the International Museum of Art & Science (IMAS) on Saturday, July 30th and Sunday, July 31st. The entire weekend is dedicated to thanking those who risk their lives to keep us safe.
Gisela Colón: PODS
This exhibit features futuristic Glo-Pod sculptures. Beautiful and odd, these are blow-molded acrylic plastic and iridescent and fluorescent pigment pieces. The interior colors of these sculptures constantly morph depending on lighting conditions and the angle they are viewed. Each time you look at these pods, you can see a different color!
Indigenous Weaving: An Exhibition of Native Objects from the National Museum of History
Featuring 40 native weavings from Taiwanese indigenous peoples, visitors will get a rare glimpse into the unique lifestyles and value systems of Taiwan's indigenous peoples. With traditional patterns and unique weaving styles disappearing, this will provide a great insight into the intricate and precise calculations used in each weave pattern. Any missed calculation would likely distort the entire work!
The World of Jan Brett
This exhibit encourages playful exploration and brings the stories of Jan Brett to life. It will feature over 50 original paintings from Brett's bestselling books, which take visitors on a journey around the world to learn about the places and cultures where she gets her inspiration. Her original artwork invites visitors to travel the globe and become a part of their favorite books.
Sacred Visions Stained Glass Windows
20 stained glass windows from the studios of Louis Comfort Tiffany depict various ecclesiastical scenarios of angels, saints and the teachings of Jesus mentioned in the Gospels of Matthew and Luke, otherwise known as Beatitudes.
Here Be Dragons
Mythical fire-breathing dragons hundreds of feet tall with long tails and thousands of scales! OH, MY! Explore the myth of dragons through culture, literature, folklore and more. Visitors will even be able to see the real "dragons" of today! Learn about what "dragons" eat, how they survive in the wild, their natural predators and challenges to their survival!
*The Here Be Dragons exhibition is not included in general admission. There is a $5 additional entrance fee except for Family Premium Members and above.
Hands-On Activities and More!
In addition to these popular exhibits, you can also explore IMAS's Rio Scape playground. Join hands-on activities in the Ann Moore Art Studio and BioZone, watch real-time weather data in the Science on a Sphere (SOS) display during your visit and view real astronaut food in ViewSpace!
Admission
Celebrate with us in thanking first responders on these two special days. It is open and free to all police officers, firefighters and EMTs, etc. A valid and current I.D. must be presented at the time of admission.
Regular general admission is $7.00 for adults, $5 for senior citizens or students with I.D., $4 for children 4 through 12 and FREE for IMAS members. For more information, please call IMAS at 956.682.0123 or visit the IMAS website.