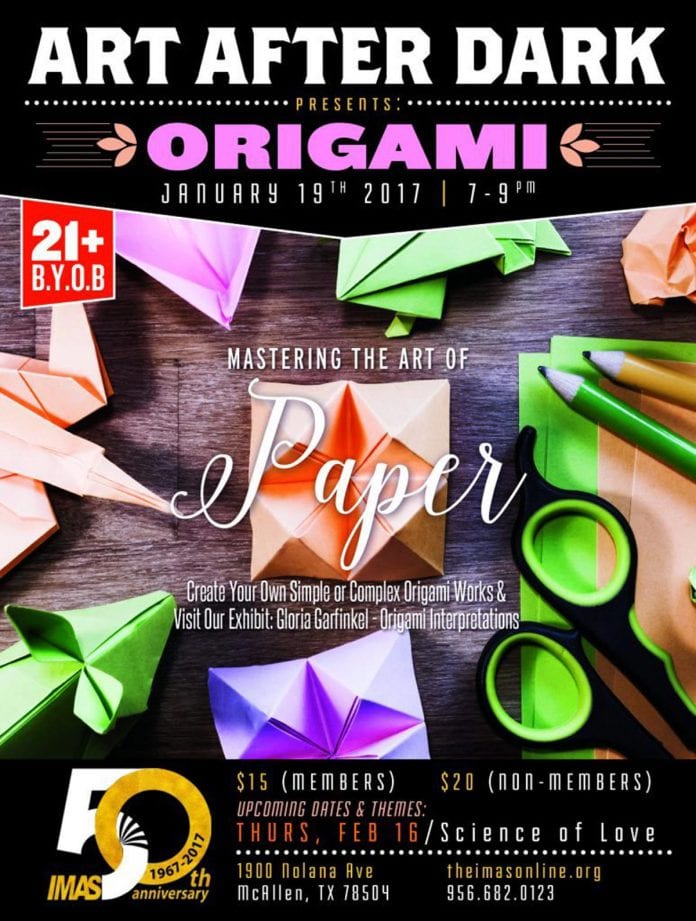 The Japanese art of folding paper into decorative shapes and figures has been around for centuries, captivating people from all walks of life. Now you can learn about this ancient craft at the International Museum of Art & Science! Guests 21 and over will have the opportunity to enjoy the art of paper up close and personal, all while enjoying a glass of their favorite adult beverage. Make your own simple or complex origami work and enjoy a sneak peek behind the Gloria Garfinkel: Origami Interpretations exhibit!
A Sneak Peek at Origami
Gloria Garfinkel: Origami Interpretations, an exhibition of 29 vibrant paintings, sculptures and prints by the New York-based artist will be on display at the Clark Gallery at IMAS from January 21st through April 2, 2017. The exhibition features pieces from several of Garfinkel's series, including Gingko Kimono, collaged etchings from the late 1980s; paintings inspired by the obi or Japanese sash; etchings from the Kiku (Chrysanthemum) series; Kado woodcut prints, Hanabi maquettes; and aluminum Flip paintings.
Learn More at IMAS
IMAS's Art After Dark is a monthly event for guests 21 and over and allows the opportunity for a unique understanding of various forms of art and fun while drinking your favorite beer or wine. B.Y.O.B. and enjoy the origami-based theme this month on January 19th beginning at 7:00 PM.
Admission is $15 for members and $20 for non-members. Space is limited! For more information, visit the IMAS website or call 956.682.0123.