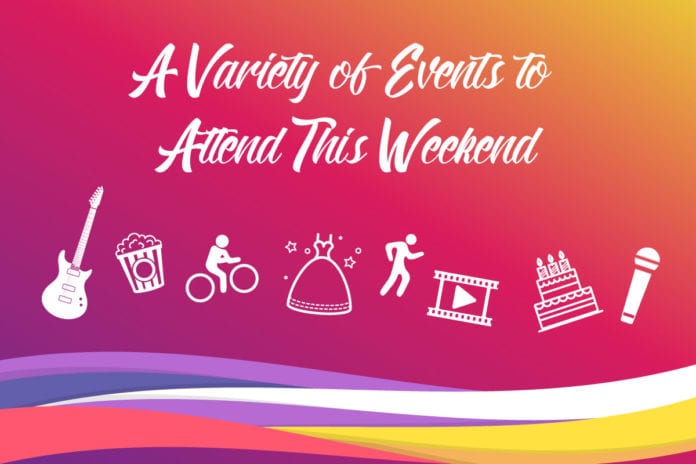 August is off to a great start with a variety of events taking place all over McAllen! Whether you're looking for an event to spend with your besties or want to enjoy some local talent with a significant other, there's something for everyone! Check out the different ways you can explore McAllen this weekend, and don't forget to tag us in your selfies on social media!
Friday, August 3RD
LOCAL TALENT
Dezorah's Homecoming & Sick/Sea's Return Show – 8:00 PM
After a long, two month tour, post-progressive band DEZORAH returns to the RGV to share the stage with the Valley's very own Sick/Sea after having taken two years off from playing. It's the perfect time to merge both bands for a comeback show along with Mode Dodeca and Lunar Heart at Yerberia Cultura in Downtown McAllen. These local bands are bringing some variety with their electric, indie/alternative, dream-pop vibes to the music scene in McAllen.
Saturday, August 4th
FOR THE CYCLISTS
Viva McAllen Streets – 7:00 AM
"Viva McAllen Streets" is an event organized by McAllen Crime Stoppers, Inc. They started this to help promote health and fitness for all residents of the Rio Grande Valley. The City of McAllen and McAllen Police Department, along with other community partners, want to ensure that everyone has an opportunity to participate in this fun-filled, healthy, one-day community event.
The first 500 people to register will receive an event shirt! This event will consist of a 5K and 10K run that are both $15 as well as 25-, 40-, and 60-mile cycling rides that are each $25. Register by clicking here or call 956.687.8477 for details!
FOR THE KIDS
Movies in the Park – 8:30 PM
McAllen Parks and Recreation will be holding the last "Movies in the Park" event of the summer this Saturday! This recurring event takes place almost every Saturday throughout the summer at Westside Park on 1000 S. Ware Rd. Arrivals start at 7:00PM and the movie starts at 8:30 PM.
Families are encouraged to bring their own blankets/lawn chairs. There will also be concessions available onsite. Bring the kids out for the last movie of the summer and enjoy some quality time before school begins! Don't forget to stay hydrated and apply sunscreen and mosquito repellant.
INTERNATIONAL FLAIR
PIMPINELA, Tour Hermanos-Grandes Exitos – 8:00 PM
The Argentine brother/sister duo will be hitting the McAllen Performing Arts Center stage this weekend! Pimpinela is bringing their world-renowned fame to our very own city. For over 30 years, they've been delivering 80's pop ballads that have stolen the hearts of millions across the globe. This is the perfect event to attend if you're looking for something with an international twist! Tickets are still available through Ticketmaster.
Sunday, August 5th
FOR THE BRIDES
Wedding Fair Events – 12:00 PM – 5:00 PM
For over 25 years, "Wedding Fair Events" has been the largest bridal convention in South Texas. The RGV's top wedding professionals are all gathered under one roof at the McAllen Convention Center, enabling brides to just bask in the ambience as they plan their dream wedding without a worry in the world.
There will be fashion shows, food and cake sampling, money-saving offers and prizes that include three grand prize honeymoon packages! This is definitely an event that RGV brides NEED to attend. For more information, call 888.828.1314 or visit the McAllen Convention Center's website here.
No matter what you end up doing this weekend, we hope that you have a blast! Don't forget to use #exploremcallen in your posts on Instagram for a regram. Summer may be just about over, but McAllen is always buzzing with different ways to explore the city, so stay tuned for more!