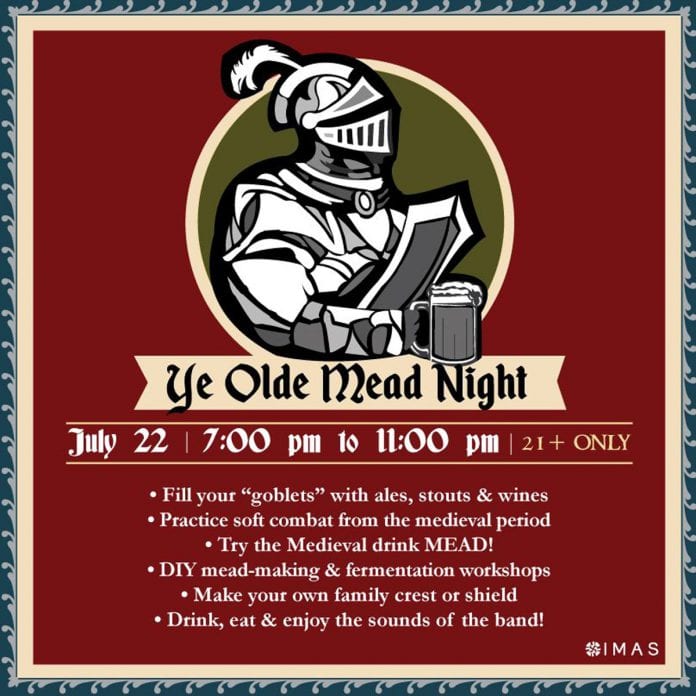 Travel back in time and raise your goblets while enjoying a night filled with medieval themed hands-on activities, food, drinks, music and much more at Ye Olde Mead Night! The International Museum of Art & Science (IMAS) will be transporting visitors back in time on July 22nd from 7:00 PM to 11:00 PM.
A Night of Fun and Adventure
Attendees will be able to taste ales, stouts and wines as well as fill their goblets at Ye Olde Mead Night. Practice soft combat, an interactive game offering a little friendly competition, originally from the medieval period. It's great for all ages!
Travel back in time and try one of the oldest alcoholic drinks known to man! Fused with yeast, honey, water, spice and fresh, seasonal ingredients, you can even join DIY mead making and fermentation experiment workshops!
Workshop participants will learn to create their own sweet, warming brews. Make your own family crest or shield in the Ann Moore Art Studio. Drink, eat and be merry in our RioScape and enjoy the sounds of the band. You could dance off those calories as well!
Admission
The cost for Ye Olde Mead Night is $35 for members and $45 for non-members. Admission includes two drink tickets and food. Additional tickets are one for $3 or five for $10. Purchase tickets in person at IMAS or call ahead (a $2.50 fee will apply for purchasing over the phone). To purchase today, call IMAS at 956.682.0123, or visit the museum's website.
Remember, if you come dressed in proper renaissance faire attire, you will receive an additional drink ticket!