This Saturday, February 22nd, cover the rims of your drinking glasses with salt because it's National Margarita Day! To honor this day, many watering holes in McAllen will be celebrating with margarita specials. Here are eight bars in McAllen where you can celebrate National Margarita Day!
Don't miss the National Margarita Party at Bourbon St. Grill! From 7:00 PM until 9:00 PM, this spot will be mixing margaritas with Hornitos and El Tesoro Tequila. Plus, enjoy live music from the Lost Puppies!
One of the biggest clubs in Downtown McAllen will be celebrating National Margarita Day with $1 margaritas until 11:00 PM and no cover charge for the ladies!
Get the party started at Suerte Bar & Grill with $1 margaritas from 6:00 PM until 10:00 PM! There will be no cover charge, and every Saturday, there's a house DJ!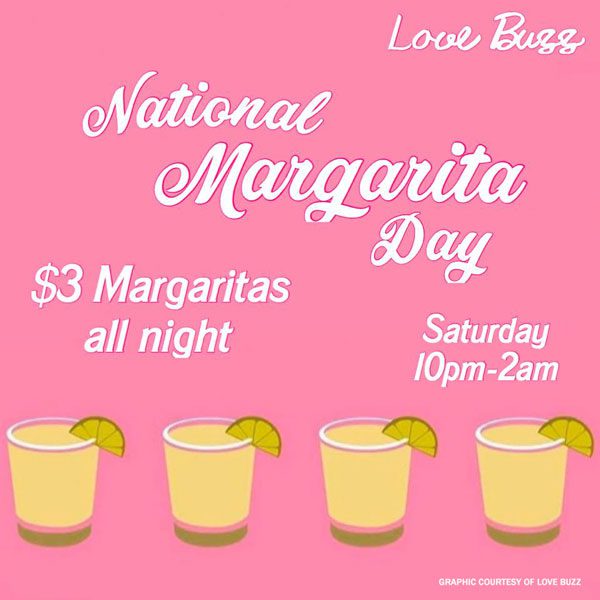 This cute and chic cocktail bar is perfect for a girl's night out! Enjoy $3 pink margaritas all night at the pinkest bar in Downtown McAllen!
Quench your thirsts with $5 margarita pitchers all night long. Plus, Thirsty Monkey will also be having its famous Jager bombs and Landsharks for $2 each.
From 6:00 PM until 2:00 AM, sip on $3 margaritas, $5 frozen mango margaritas, and $5 frozen grapefruit margaritas. Plus, there will be a tequila spice bar where patrons will be encouraged to create their own spice mixture for the rims of their margarita glasses!
Get National Margarita Day started with $5 20 oz. margaritas all day! Margaritas will range from watermelon, mango, Tamarindo, strawberry, and original flavors.
Happy National Margarita Day Explorers!
Plan on attending any of these bars in McAllen for National Margarita Day! Be sure to use the #exploremcallen or tag us on Facebook, Twitter, or Instagram!