Looking for places to enjoy this October? Look no more! Here are a few McAllen events and places to look forward to this fall season! Find even more holiday fun on our events calendar.
October 1st
McAllen Sunset Market
301 S Main St, Downtown in La Placita Park
5:30 PM
Join us downtown at the McAllen Heritage Center for some live music, art, food, and lots of vendors at the sunset market!
Photo courtesy of Facebook.

October 2nd
St Mark's Pumpkin Patch
301 W Pecan Blvd
1 PM- 7 PM
If you are looking for a fun fall-themed activity for you and your family, then mini sessions are the perfect way to go! Visit the St Mark's pumpkin patch and pick your favorite pumpkin along with your personalized mini! 
(956) 682-1481
October 7th
80's rock at the 80's brewery
400 Nolana Ave
7 PM – 9 PM
Want to live out your Stranger Things dream?! Enjoy 80's rock and roll music, at 80's Brewery,  where you can rock the night away with your friend this season.
Photo courtesy of Facebook.

October 13th
Halloween Pet Photos
821 N Main St
6 PM – 9 PM
If you enjoy Halloween and would love to dress up your furry companion, then Halloween Pet Photos is the event to attend. Visit the Yaqui Animal Rescue center and take photos of you and your pets in fun Halloween costumes, all while also enjoying raffles and merchandise!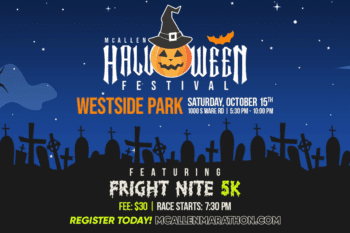 October 15th
McAllen Halloween Festival 
1000 S. Ware Rd.
5:30 PM – 10 PM
Don your best costume and join the McAllen Parks and Recreation hosting the Halloween Festival. Enjoy games, music, and prizes for the whole family. Plus, don't forget to sign up for Fright Night 5K that night at Westside Park!
Photo courtesy of Facebook.

October 28th
A MAD Haunting
311 S 17th St
6:30 PM – 10 PM
Treat the family to live pro wrestling, and live musical performances all at the Cine El Rey! You can enjoy: 
Table Vendors
Costume contest
Free face painting
FREE meet & greets
FREE indoor trick or treating
Photo courtesy of Facebook.

October 29th
Halloween Costume Social
1309 N Main St 
10 PM – 2 AM
Get your tickets to the ultimate spooky night Halloween night, held by Level Up Dance group. While wearing your Halloween costume, enjoy some time with your friends and have a spooktacular night!
Halloween Party at Quinta Mazatlan
 600 Sunset Dr.
9 AM – 2 PM
Bring your friends and family to enjoy market and food vendors and see community performances. Don't forget to dress up for your photo op, and to walk the Sticks and Bones trail, which is open throughout October and November.
Photo courtesy of Facebook.

October 30th
4th Annual Spooktacular Awareness 5k Run/Walk
101 East Ridge Road, McAllen
7 AM
The Rio Grande Regional Hospital invites you to participate in their 4th Annual Spooktacular Awareness 5K Run/Walk! If you are interested in participating, register here! 
Share Your Experiences!
If you are participating in any of these events, we'd love to see your experiences! Show us your experiences and your good times on our Facebook and Instagram!