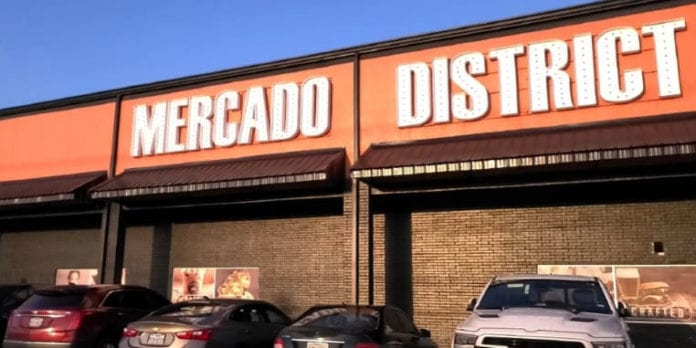 After some new owners and a whole lot of remodeling, Mercado District at 4400 N. 23rd St. has transformed into a new hangout spot filled with many small businesses and restaurants. Check out the nine spots where you can grab a bite! 
Sendero Texas Gastropub
Photos courtesy of Sendero Texas Gastropub on Instagram.
Sendero shines a light on Texas' culinary landscape with game meats, local veggies, and seafood with a nod to our south-of-the-border roots.
Kabubi Tacos
Photos courtesy of Kabubi Tacos on Instagram.
Kabubi Tacos creates delicious gyros, falafels, baklava, and more! Rich with flavors, their menu will have you coming back for more!
Sticky Rice Sushi
Photos courtesy of Sticky Rice Sushi on Instagram.
If you love sushi, you're going to love this place. Not only does it have your favorites like California and Philadelphia rolls, but it also sports Miso and Sake rolls. Friendly service and delicious sushi? Yes, please! 
Pizzeria di Soria
Photos courtesy of Pizzeria di Soria on Instagram.
Looking for some authentic wood fire pizza? Pizzeria di Soria serves that and empanadas! Their flavors are an amazing fusion amplified with a wood fire oven. 
Ronin Noodle Bar
Photos courtesy of Ronin Noodle Bar on Instagram.
Ronin Noodle Rice Bar specializes in Asian fusion cuisine with an RGV twist. Not only are they serving up great noodles, but they even have a Sunday brunch menu filled with breakfast noodles! 
Midtown Ceviche Bar
Photos courtesy of Midtown Ceviche on Instagram.
Midtown Ceviche Bar specializes in Peruvian-style ceviche. From the moment the flavors hit your first taste bud, you'll want more!
La Cocinita
Photos courtesy of La Cocinita on Instagram.
At this spot, Mexican cuisine is elevated to a new level of deliciousness. Enjoy traditional Mexican recipes with a modern and elegant twist.
Cocu French Bistro
Photos courtesy of Cocu French Bistro on Instagram.
Cocu French Bistro is THE go-to place for brunch, lunch, and dinner! You'll find decadent and savory crepes, salads, and more. 
Lovers Lane Café
Photos courtesy of Lovers Lane Café on Instagram. 
Lovers Lane Café serves delectable coffee, pastries, and more. You can customize your favorite hot beverage just the way you like it, served with friendly smiles, and great customer service!
Check out our TikTok for more on Mercado District by clicking here!