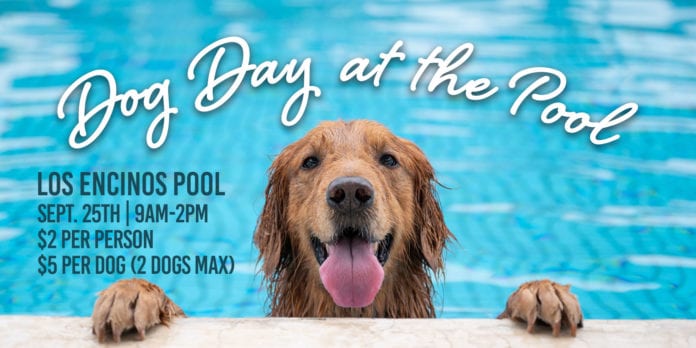 One of the most popular events in McAllen is back at Los Encinos Swimming Pool. Yes, we're talking about Doggie Day at the Pool! On Saturday, September 25th at Los Encinos, the day will be filled with furry friends looking to make a splash. Bring your dog's favorite toys for a party that's sure to be off the leash!
The event will be held between 9:00 AM and 2:00 PM. Prices will be $2.50 per person and $5.00 per dog (maximum of two dogs per owner). Please bring proof of your dogs' rabies vaccinations. 
Can Dogs Swim?
While most dogs have a natural ability to swim, others need an extra comforting nudge to step in the water. Like humans, dogs can be frightened by new experiences and may feel anxious or nervous near water. 
No matter what, swimming for dogs can be a great pastime as long as you're there with them! For extra safety, buying a doggie life jacket will help your furry companion stay afloat easier. 
A few swimming benefits for your dog include:
Exercise

Playtime

Cooling down

Therapeutic motions
Ready to Jump In?
Where: Los Encinos Swimming Pool in McAllen
Time: 9:00 AM – 2:00 PM
Price:
$2.50 per person.
$5 per dog with a maximum of two dogs per owner.
Additional details: Must bring proof of current rabies vaccinations for dog entry.