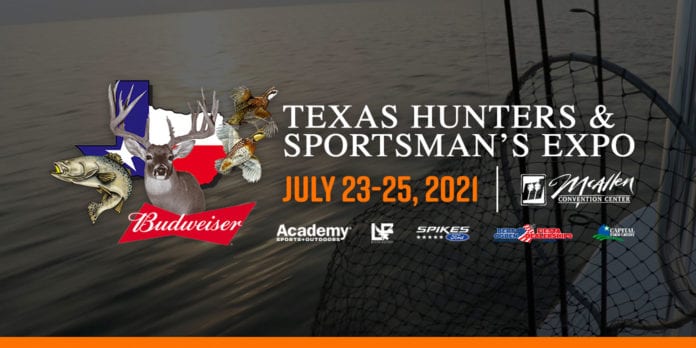 The Texas Hunters & Sportsman's Expo is the largest show of its kind, drawing in thousands of people from across South Texas as well as international visitors. McAllen has hosted the show for the last 25 years, and its popularity stems from the city and surrounding areas being home to thousands of affluent hunters and large ranches. Come celebrate with fellow hunting enthusiasts on Friday, July 23rd through Sunday, July 25th, 2021, at the McAllen Convention Center.
Over 275 Exhibits!
From the experienced sportsman to those interested in learning, this year's expo will have something for everyone, including:
Experienced guides and outfitters
Yeti brand equipment
Featured attractions
Exotic wildlife ranches
Major boat and R.V. dealers
ATVs and RVs
Major manufacturers
Fishing guides
Major conservation groups
Some of the featured exhibits will include Joe Martin's Diamondback Rattlesnake Pit, the World Class Whitetail Head Display, the first female taxidermist, Kristen Ottea, and so much more!
Hours and Admission
You won't want to miss this great, three-day event! Admission is $15 for adults, $10 for senior citizens, and children 12 and under get in FREE! Hours on Friday are 5:00 PM to 10:00 PM, Saturday from 10:00 AM to 7:00 PM, and Sunday from 11:00 AM to 6:00 PM. For more information, visit the event's Facebook page and official website.