McAllen Art Walk Kicks off a Brand New Season
Every first Friday of the months between September and May, the city of McAllen comes alive with the vibrant, passionate culture of its residents in an event known as the ArtWalk.McAllen's ArtWalk is a free, self-guided tour through the art studios, museums and galleries located in the city's oldest and most historic neighborhoods. ArtWalk was founded to promote the city's flourishing arts scene, beginning the first Friday of each month from September through May. The event has become a popular attraction for both the community and visitors alike as a way to come together and revel in their shared passion for art and culture.
The city's arts scene has grown exponentially in recent years, prompting the construction of the recently completed Art Village—a massive, 30,000 square foot complex that is home to art studios, galleries and art firms in addition to several restaurants. Some of the more popular stops on the ArtWalk tour include the Nuevo Santander Gallery, Art House, the Douglas Clark Gallery, S. Klein Gallery and Manichaus. ArtWalk begins from 6 p.m until 10 p.m. and is open to the public.
Contact Us
For more information about ArtWalk, contact the Art House, located at 1009 Laurel in McAllen or call us today at (956) 490-5507
En Español
Atención! Regresa nuestro Paseo del Arte, conocido por todos como ¨Art Walk¨ 
A este evento asisten todos los que buscan un rato de diversión, esparcimiento, y ganas de caminar por las diferentes avenidas que muestran el arte proveniente de diferentes lugares culturas y negocios.
Toda la región de McAllen y el valle de Texas esperan con ansia cada primer viernes del mes para asistir y participar.
Es completamente gratis y todos son bienvenidos para ir y disfrutar de la comida, el vino y la música del área; así como también de galerías de arte, museos y muchos otros lugares que abren sus puertas y exponen sus mercancías.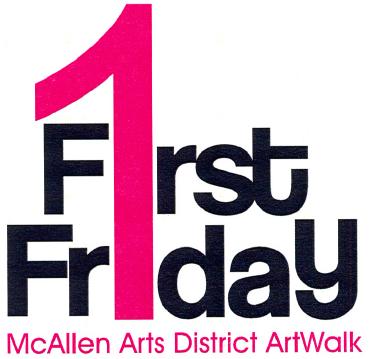 The McAllen Art Walk continues first Fridays with art galleries, museums and other venues.
Cada primer viernes del mes 
Septiembre a Mayo 
Sobre la calle Main 
6:00pm a 10:00pm 
Gratis
Este Paseo de Arte, o Art Walk, comenzó hace seis años, se ha convertido rápidamente en uno de los mayores eventos de la ciudad de McAllen.
Contact: Becky Guerra 956-618-4959, nsantander@aol.com
Location: Downtown; McAllen, TX
6pm to 10pm, First Friday of the month
FREE