Springtime is nearly here! The month of March is over the brim with community meetups, markets, educational events, and celebrations! So we invite your family and friends into town to enjoy the following events happening throughout the city of McAllen. Check out our events calendar for more!

March 3
Picture courtesy of Facebook.
Attend "Unfold: The Meetup," a night of connection and poetry amongst fellow artists. This poetry meetup will begin the Unfolded Poetry Workshop Series led by McAllen's very own Poet Laureate. Event is from 7:30 PM to 9:30 PM.

March 4
Show up to support your local artists and musicians for the McAllen Art Walk at the Creative Incubator! The event will take place 7 PM to 10 PM.
Participate in the McAllen Art Crawl at different venues and galleries, showcasing our local arts, creativity, and culture at the heart of the McAllen Art District from 6 PM to 10 PM.

March 5
Photo courtesy of Instagram.
Support your local small businesses while sipping on your favorite coffee drink at the March Pop Up Event at Moonbeans. This event is from 11 AM to 3 PM.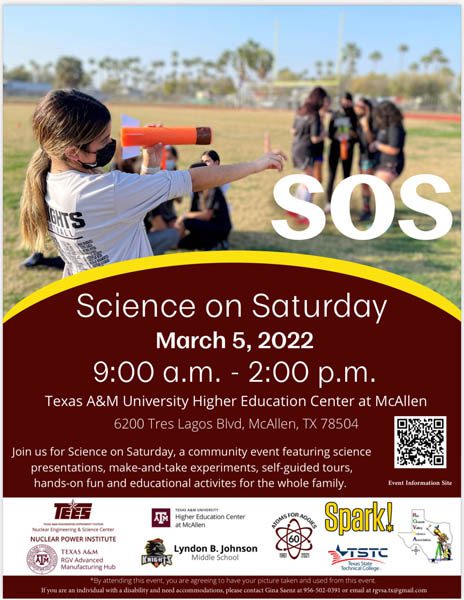 Join the Texas A&M University Higher Education Center for Science on a Saturday – a day of science presentations, experiments, and educational activities with your family and students interested in STEM careers. The event will take place from 9 AM to 2 PM.

March 6
Head over to '76 Bar and Kitchen to support local vendors while enjoying food and drinks at Pop Up World Spring Edition. The event will take place from 1 PM to 6 PM.

March 12
Show up at the McAllen Parking Garage and support your small businesses at A Golden Market. The event will take place from 4 PM to 9 PM.

March 14 – 18
Picture courtesy of Facebook.
If you're looking for a place to send your talented child to learn more about the arts and sciences, then the Braniacs Spring Break Camp at IMAS is the perfect place to go! The camp runs for four days from 9 AM to 3 PM. Registration is required.

March 16

March 19
Picture courtesy of Facebook.
Celebrate Trucha's 1-Year Birthday Celebration at Tropicasa! You can expect fun, food, music, vendors, and mariachi! The pachanga is from 6 PM to midnight.

March 27
Are you and your family planning a wedding or a quinceañera? You're in luck! The RGV Wedding and Dance Expo will be treating guests to promotions, giveaways, food, cake samples, and more at the Convention Center. The event is from 12 to 4 PM.
Explore and Enjoy McAllen
Keep a lookout for more in our events calendar! Don't forget to show us how you #ExploreMcAllen with your family, friends, and loved ones on Instagram and Facebook.