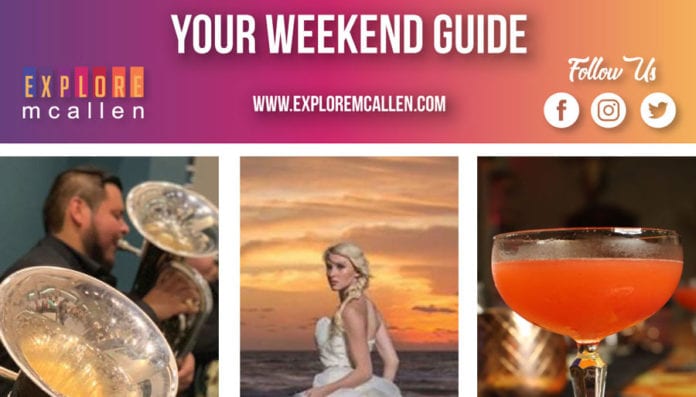 Looking to have some fun this weekend? If so, then make sure to mark your calendars for one of the many events happening in McAllen! Check them all out below and choose which you'd like to attend!
Friday, February 28th
Don't miss a heart-stopping adventure as the Valley Symphony Orchestra takes you on a musical journey when it plays selections from Indiana Jones and the Wild West. Tickets are available at the McAllen Performing Arts Center box office. The show starts at 8:00 PM.
Tonight, take your pick and grab a bite at the McAllen Food Park as they host Karaoke Night! The singing will be from 8:00 PM until 10:00 PM and the Food Park stays open until midnight.
Looking for a little edge to your Friday night? Then don't miss a punk rock show at The Gremlin featuring The Kleptos, The Palatines, and Los Skagaleros. There's an $8 cover charge for tonight's show and all ages are welcome. Doors open at 9:00 PM.
It's Family Fun Friday from 5:00 PM until 9:00 PM at Moonstruck Market! Stop by to enjoy live music, live painting, take photos at the photo booth, and order a plate at one of the many food trucks available. Plus, Family Fun Friday is pet-friendly and will have Yaqui Animal Rescue present!
Saturday, February 29th
Girl Scouts of the Rio Grande Valley, you are invited to the Girl Scouts Workshop at the IMAS. From 2:00 PM until 4:30 PM, come and earn your art or science badges during this one-of-a-kind experience.
From 7:00 PM until 10:00 PM, Fall Back Records is having a Pop-Up Shop at Grain to Glass! Stop by for a pint of your favorite hand-crafted brew. Plus, get up to 75% off select titles.
Bourbon St. Grill will host Jukebox Heroes from 10:00 PM until 1:00 AM! Try some of the best New Orleans-flavored cuisine in South Texas during the performance.
The Palm View Community Center presents the Father/Son Tailgate Party! Come dressed in your favorite team's jersey and participate in a football throwing contest, bean bag toss, trivia games, and more. The Tailgate Party will be from 5:00 PM until 9:00 PM.
Sunday, March 1st
It's a Sunday Party at Suerte Bar & Grill! From 3:00 PM until 8:00 PM, relax with good vibes, great tunes, and, of course, food and drink specials.
From 11:30 AM until 5:00 PM at the McAllen Convention Center, plan your wedding day, prom, or quinceanera all in one place at the Rio Grande Valley Wedding and Quinceañera Fair. Event professionals including florists, venue managers, photographers, and DJs will be there to help make your special day a memorable one. Tickets are available at the Convention Center box office and online.
From 4:00 PM until 7:00 PM, you're invited to Grain to Glass for a live performance from Latin jazz band Rio Cruzado.
Bring your family and friends to The Wish Market at The Yard in Downtown McAllen as it will have local artists and vendors from 3:00 PM until 8:00 PM selling arts and crafts.
Have Fun, Explorers!
It will be sunny all weekend, so let's get out and have some fun this weekend, Explorers! Tag us in your photos or use #ExploreMcAllen for a chance to be featured on our Facebook, Twitter, and Instagram accounts!