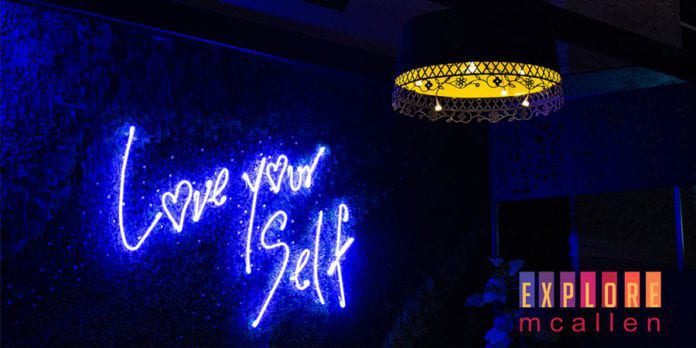 Upon entering Valentina Resto Bar Patio, you'll notice a variety of Renaissance-era artwork on the walls and ceiling, along with a breathtaking stained-glass partition at the center. Behind the restaurant is a beautiful patio surrounded by plants and individual letters, with flowers bursting out of each, that spell "Valentina" over the outdoor space. It also features an outdoor stage for live music performances every Thursday through Saturday and a large screen for projecting sports games and music videos.
The atmosphere is so relaxing and elegant that you're bound to have a romantic date night here. What does Valentina bring to the table? Their menu offers International-Mexican fusion options, their interior and exterior designs consistently follow a unique aesthetic, and the Instagram-able indoor and outdoor walls make for great photo opportunities with friends and family.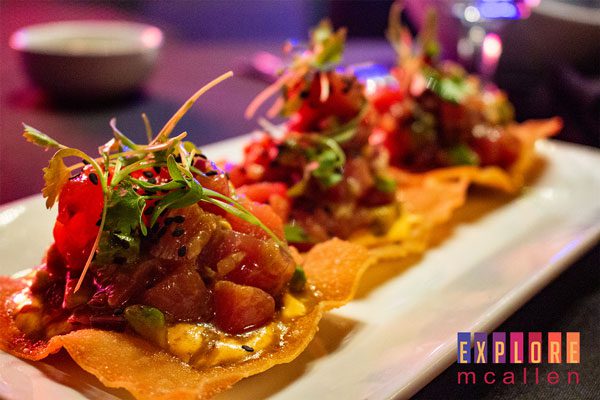 Owner Sandra Cerda partnered with Valentina's head chef to create a unique menu inspired by their favorite family meals. First came the colorful raw appetizer, Ahi Tuna Tostadas, which consists of wonton, chipotle aioli, avocado, onion, and ponzu sauce. It was a thin, spicy tostada but the avocado balanced the heat.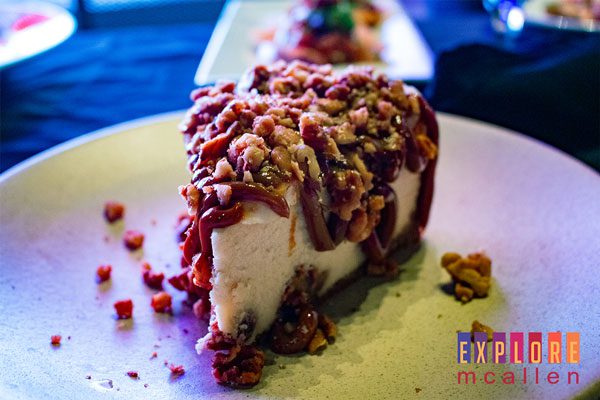 Next was the main dish, Salmon Jona with crab canelonis in a mouthwatering red wine sauce. Finally, we ended dinner with a large slice of cheesecake. It was topped with a generous amount of dulce de leche, sliced bananas, and diced nuts.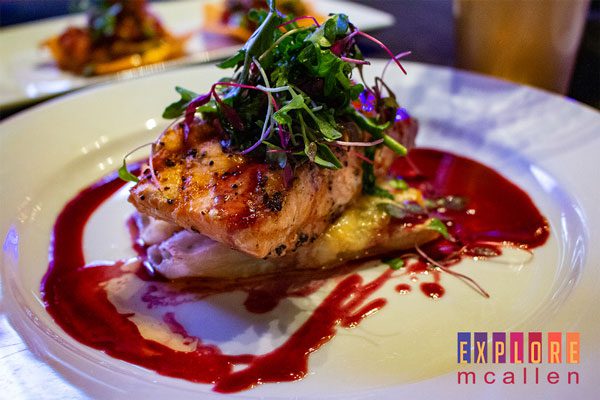 Valentina Resto Bar Patio is open Monday through Wednesday from 4:30 PM until 10:00 PM, Thursday through Saturday from 4:30 PM until 2:00 AM, and Sunday from 1:00 PM until 6:00 PM. It's located at 4901 W. Expy. 83 Ste. #220 and can be reached at (956) 843-0189.
Try it Out for Yourself!
If you're looking for a taste of International-Mexican fusion dishes, Valentina Resto Bar Patio should be on your list for lunch and dinner in McAllen! Share your favorite dish by tagging us in your foodie photos or use #exploremcallen and #mcalleneats!