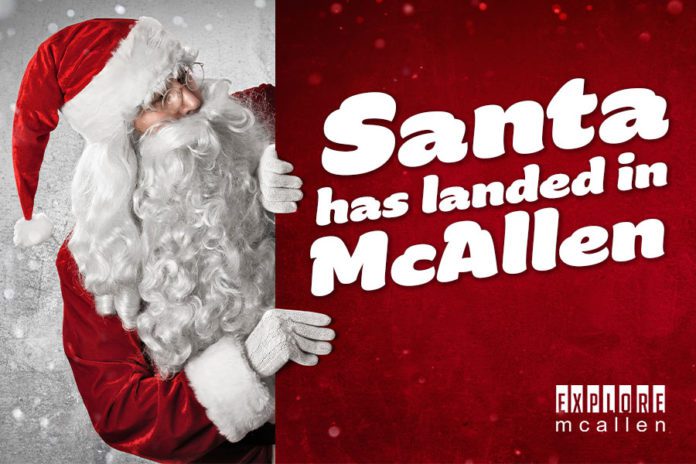 When you look up at the sky this December, you may find Santa's sleigh whizzing by! Luckily for you, Santa will stop by many city of McAllen events too. Don't miss the opportunity to meet and take photos with Santa at these four locations!

Photo courtesy of Facebook.
McAllen Parking Garage
221 S. 15th St.
Valley Street Market presents A Jolly Good Market this Saturday, December 11. Take a photo with Santa as you shop at one of over 30 small businesses that will be present!

Photo courtesy of La Plaza Mall.
La Plaza Mall
2200 S. 10th St.
Take a picture with Santa until December 24, and book your reservation online! You can choose from the following photo packages:
Package A: seven photo prints and digital downloads.
Package B: five photo prints and digital downloads.
Package C: This package includes five photo prints.

Photo courtesy of Facebook.
South Pole of Texas
700 Convention Center Blvd.
The South Pole of Texas Illuminating Festival offers photos with Santa this year! Visit the event website for more information! Take advantage of other activities throughout the festival, now until January 6, including but not limited to:
Train Rides
Santa's Castle
Holiday Carnival
Gingerbread House

Photo courtesy of Facebook.
Maddie's Pumpkin Patch
6712 N. Bentsen Rd.
If you want a holiday-themed photo with Santa, head over to Maddie's Christmas At The Farm! Bring your camera and take pictures with the entire family and enjoy the following:
Hayrides
Train rides
Petting zoo
Playground
Walking trails
Opportunities to take pictures with Santa will occur all month long! For more information, contact Maddie's Pumpkin Patch at (956) 457-3035.

Photo courtesy of Facebook.
Spot The Grinch!
221 S. 15th St.
GG's Boutique presents A Grinchmas Market, where the Grinch will be making a sneaky appearance on Sunday, December 12, at the McAllen Parking Garage!
Tag Us Online!
Tag us in your pictures with Santa on Instagram and Facebook! Use #ExploreMcAllen, #McAllenTX, #PicturesWithSanta and #ThingsToDoInMcAllen.