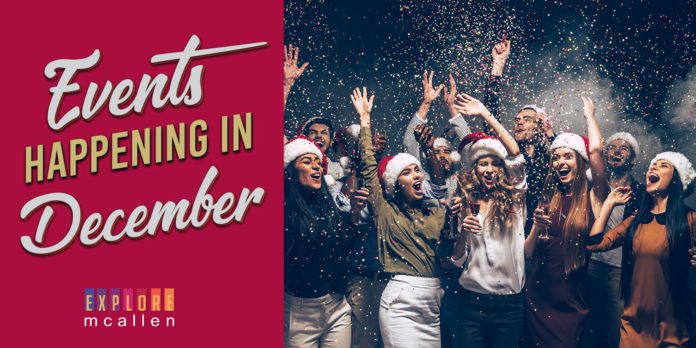 Prepare for the South Pole of Texas festival, tree lightings, gingerbread houses, and more fun things to do this December. If you and your family are looking for McAllen events to add to your holiday, look no further. Share this blog with loved ones, and plan your next adventure!

December 7th – January 1st
700 Center Lane.
Join the city for the annual tree lighting ceremony to kickstart the South Pole Illuminated Festival! Come with your loved ones and explore dazzling pathways of festive lights and a holiday-themed carnival! Starting December 7th, enjoy fun for the whole at the McAllen Convention Center. Read more about it online! 
December 8th
2721 S. 10th St.
Celebrate and support women entrepreneurs this holiday season at the Radisson Hotel! Enjoy live choir performances, sign up for door prizes, and enjoy hors d'oeuvres while you shop at holiday vendors.
December 9th
Visit the Eagle's Wonderland
Escandon Elementary school invites friends and families to Eagle Wonderland! Enjoy food, games, soccer, and a holiday vendor market! The event is from 5:30 PM – 9:00 PM.
Visit IDEA Schools Winter Wonderland
Everyone is welcome to participate at this local IDEA school for the holidays! Enjoy carnival games, holiday crafts, a hot chocolate bar, a train ride, and moon jumps! This McAllen event is from 5:00 PM – 8:00 PM.

Take a Workshop at the IMAS
Take on the gingerbread challenge at the International Museum of Art and Science with one of their several workshops this season. This event is from 10:30 AM – 11:30 AM, December 9th, 10th, and 11th. Make sure to sign up first.
McAllen Food Park Unplugged
Enjoy live music, crafts, a vendor market, and options on options of savory food from the McAllen food trucks! This McAllen event is from 6:00 PM – 10:00 PM.
December 10th
See the Nutcracker Ballet Live!
Enjoy an excellent family-friendly performance of the nutcracker at the McAllen Performing Arts Center! Get into the festive mood with a classic holiday story and awe-inspiring stage performances the entire family will enjoy! Curtain time is 3:00 PM – 6:00 PM.
Holly Jolly Party
Santa Claus is coming to McAllen at the McAllen Public Library! Come and bring your family and take FREE photos with Santa Claus! There will also be hot cocoa and crafts for FREE! Spend the holidays by making great memories with your loved ones here from 10:00 AM – 1:00 PM.
December 12th
801 Convention Center Blvd.
Get on your feet and purchase your tickets for the Gloria Estefan show and the story about two beloved artists reaching international superstar recognition!
December 13th
600 Sunset Dr.
Walk through 3,000 illuminated lights at the Quinta Mazatlan World Birding Center. Afterward, stop by the courtyard for live music, front lawn performances, holiday foods like kettle popcorn, and even more local vendors!

December 15th
821 N Main St.
Calling all pet lovers to celebrate the holidays with your pets and take pet photos with Santa at Roosevelt's at 7! So dress up your furry friends and create unforgettable memories!
December 17th

Get Your Grinch On At Clark Chevrolet
Take a photo with the Grinch, decorate gingerbread cookies, and enjoy the holidays with the McAllen Clark Chevrolet dealership from 10:00 AM to Noon.
See the Magic at the MPAC
Celebrate the holidays with The Illusionists, a mind-blowing showcase featuring jaw-dropping talents of the most incredible illusionists on earth. Purchase your tickets for the 7:30 PM performance.
Spot the Grinch at the McAllen Heritage Center
Enjoy live music while you wait to meet and talk to the Grinch from 4:00 PM – 8:00 PM. While there, take a tour and see McAllen from yesteryear.
December 20th
801 Convention Center Blvd.
Be filled with the holiday spirit with A Visit to the South Pole of Texas, performed by the McAllen Wind Ensemble. Purchase your tickets now and enjoy this evening's performance.
December 22nd
801 Convention Center Blvd.
Be amazed by the talented feats of the Cirque Dreams Holidaze spectacular! Bring the family to see jugglers, aerialists, acrobatics, and more! Purchase your tickets before it's too late.
Follow us Online for More Holiday Fun!
Find more Holiday fun this season on Facebook, Instagram, and TikTok! Remember to purchase your tickets for the South Pole of Texas Illuminated Festival!