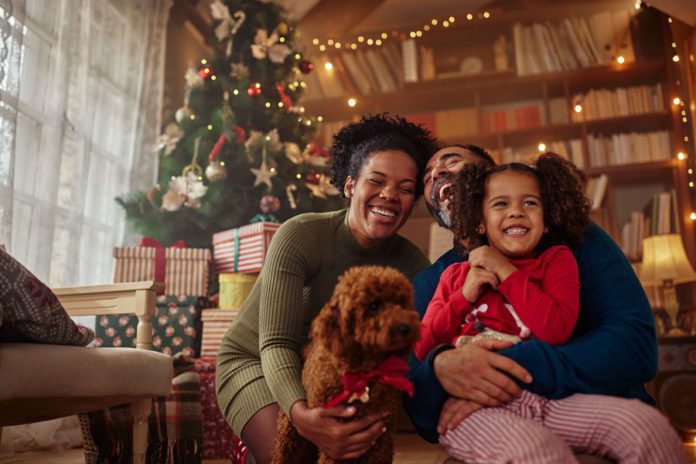 Make some magical seasonal memories during the month of December! There are lots of places to take some family photos just in time for the holidays in McAllen! Be sure to check out these amazing places for your upcoming holiday photos! 
All Month Long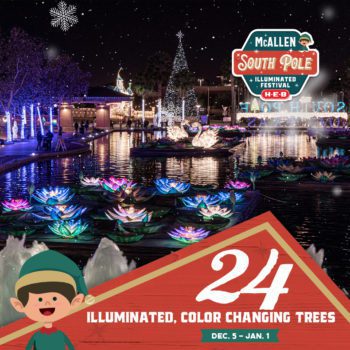 South Pole Festival of Lights
700 Center Ln.
Take holiday-worthy photos all month long, and experience the joy of the South Pole Illuminated Festival. Purchase tickets for your favorite activities, shop the markets, or enjoy savory food at the holiday food court. Don't forget to get a snapshot with Santa at the gingerbread house!
Plus share your photos of at the:
Christmas tree
Holiday carnival

 

NASA Photo exhibit
Illuminated Oval Park

 
IMAS Christmas Tree Forest
1900 W. Nolana Ave. Take a family photo in the International Museum of Art & Science Christmas Tree Forest and their set of trees with an international theme and decor! Exhibition is free with General Admission purchase.
Photo courtesy of Facebook.

Selfie HAUS
2200 S. 10th St. 
Give a whole new meaning to 'family portrait' this holiday season with a new and modern pose at Selfie HAUS at the La Plaza Mall. Shop for the perfect holiday outfit right there at the mall and purchase your tickets. 
Photo courtesy of Facebook.

Pose With Santa at La Plaza Mall
Don't forget to snap a shot with Santa at the La Plaza Mall all month long. You can make your appointment for photos with the jolly man online. Don't forget to show up early at the Grand Court. 
Photo courtesy of Facebook.
December 13th

Ugly Sweater Xmas Party!
4800 N 10th St
 9 PM – 12 PM
Looking for a place to show off your ugly Christmas sweaters? Stop by Bourbon St Grill and celebrate the holidays with your best ugly Christmas sweater! Have some holiday fun and make wonderful memories by participating in karaoke, and giveaways, as well as some good food and drinks! 
Photo Courtesy of Facebook.
December 14th

Rock Around the Christmas Tree at the Radisson
2721 South 10th St.
6 PM – 11 PM
Looking for a chance to spend a fun night out with the ladies this holiday season? Meet the Hispanic Women's Network of Texas at the Radisson hotel. Get the ladies together, rock your favorite 50s flair costume, join in on contests, and even more fun. 
Photo Courtesy of Facebook.
December 15th

Pet Photos With Santa
821 N Main St
5 PM – 8 PM
Want to take some unforgettable memories with your furry family? Come and take wonderful photos with Santa here at Roosevelts at 7, and dress up your furry companion for the holidays! Come support the Yaqui Animal Rescue with your photo contribution and enjoy raffles, gourmet dog food, and a free pup cup.
Photo Courtesy of Facebook
December 16th

Meet Santa at Payne Pre-owned McAllen
1713 W Expy 83
 5 PM – 7 PM
Santa is coming to Payne Pre-owned and paying a visit to all the good boys and girls! This is an opportunity to take some wonderful Santa photos for FREE!
Photo courtesy of Facebook
December 17th

Clark Chevrolet Grinchmas Celebration
801 W US BUS 83
10 AM – 12 PM
Clark Chevrolet is hosting a holiday gathering that is fun for the whole family! Celebrate the holidays by taking family photos with the Grinch. There will also be a chance to make some delicious gingerbread cookies that will go perfectly!
Photo courtesy of Facebook.

Reindeer Dash with McAllen Parks and Recreation
3401 Jordan Rd.
8 AM – 12 PM
Get sporty with your photos this season and join the city of McAllen for a reindeer dash! Race at the Palm View Community Center and don't forget to bring your red nose! Participants will enjoy a shirt and a swag bag!
Photo Courtesy of Facebook.
December 23rd

Silent Night in the Park
1300 Zinnia Ave
6 PM – 11 PM 
In the mood for some Christmas caroling for the holidays? Then stop by Bill Schupp Park and participate in caroling! This event is free to join and why not take some snapshots of you and your family while you go caroling this year!
Enjoying the Holidays in McAllen? We'd Love to Hear it!
Got some amazing holiday photos to share? Share them on our Facebook and Instagram! We'd love to see your holiday spirit!