School may be starting soon, but the summer fun can continue for a little longer! Whether you are looking for family-friendly, girl's night out, or nature-galore, there are tons of summer McAllen events you can still enjoy! Check out our events calendar for more!
August 5th
Farmer's Market at Fireman's Park
201 N 1st St.
9 AM – 12 PM
Recurring every Saturday of this month, visit Fireman's park for local artisan products, homemade snacks, vegan-friendly products, and organic produce that will surely be worth your buck! 
McAllen Food Park Unplugged
10 N. Broadway St. 
6 PM – 10 PM
Enjoy a fun night out, trendy food that will leave you salivating, art & craft vendors and live music by Martin Leon at the first ever Mobile Food Park in McAllen! Music begins at 8 PM.
Photo courtesy of Facebook.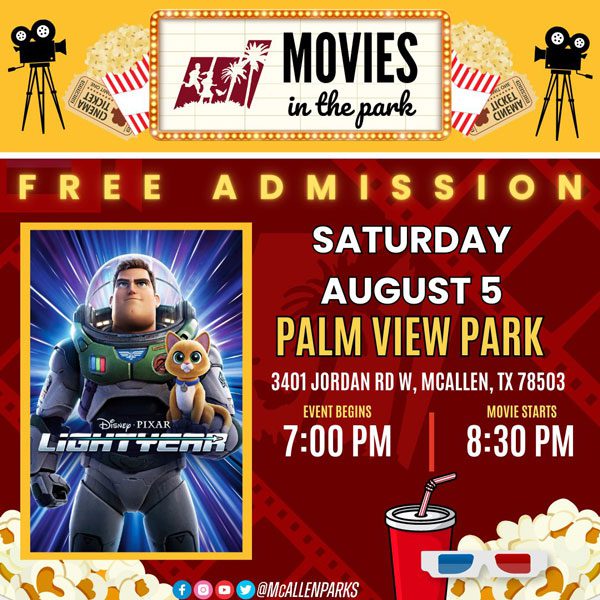 Movies in The Park
3401 Jordan Rd. 
7 PM
Join the McAllen Parks and Recreation Center for a movie at Palm View Park for FREE! Grab your spot early at 7, but make sure to get there before 8:30 for curtain! Bring the family together to watch the Disney animated film, Lightyear!
August 6th
RGV Wedding Fair

 
700 Convention Center Blvd.
12 PM – 6 PM
Visit the McAllen Convention Center to see the latest trends in the bridal industry. Look forward to vendors, wedding venues, photographers, bridal clothes, bridal discounts, fashion shows, and plenty of sweet treats!
Disney Princess Sip N' Paint

 
3424 N. 10th St. 
12 PM – 5 PM
Enjoy a fun day out at Love Buzz for a Disney Princess Sip N' Paint! All ages are welcome to create a masterpiece with their friends at the ultimate pink-chic restaurant!
August 13th – Know Your Planetary Neighbors at MPL
4001 N 23rd St.
7 PM – 8: 30 PM
Perfect for a family outing, bring your kids to McAllen Public Library to get to know all the planets of the solar system and other astronomy! 
August 15th – Flashlight Nights at Quinta Mazatlan
600 Sunset Drive 
8:30 PM – 9:45 PM
All ages welcome to join trained naturalist take hikers through the World Birding Center to explore nature at night. Search for frogs, insects, owls, and remember to bring your flashlights!
August 18th – Sanrio Sip N' Paint
5429 N 23rd St.
7 PM – 9 PM
Love all things Sanrio? Come and join the studio selfies and more, for a night of fun and delight! This monthly occasion features amazing sanrio themed clothes and themed rooms, you can enjoy a Sanrio night!
August 19th – Native Plant Gardening at Quinta Mazatlan
600 Sunset Drive
2:30 PM – 4 PM
Have you ever wanted to learn what Valley native plants you can add in your garden? Beginners and experience gardeners are welcome at the Native Plant Gardening workshop at Quinta Mazatlan!
August 19th & 20th – SAXET Gun Show
700 Convention Center Blvd.
9 AM – 5 PM
Bring out the boys to the seasonal opening of the SAXET Trade show at McAllen Convention Center. Find wester wear, the latest camping gear. Hunting apparel, guns & ammo shop, and savory treats for travel! 
August 20th – Limitless Dance Competition
700 Convention Center Blvd. 
Grab your dancing shoes and grab your tickets for the Limitless Dance Competition at the McAllen Convention Center! Learn dancing techniques from prestigious educators and choreographers! Beginners and experienced dancers are welcome!
Summer McAllen Events to Enjoy
Submit your upcoming summer McAllen events on our Events Calendar, and follow us for more things to do in McAllen, Tx.