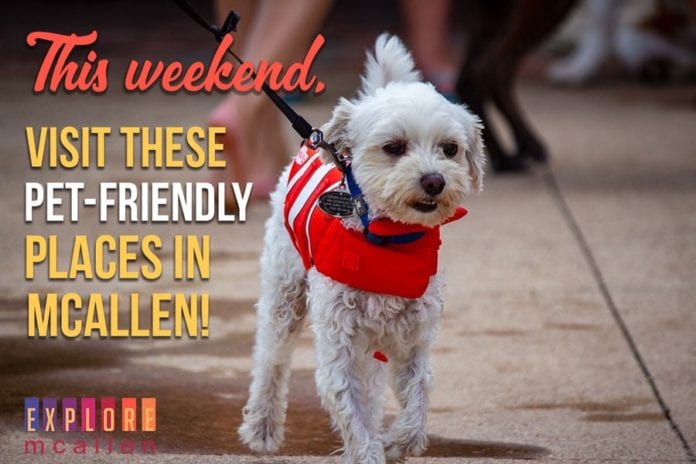 Having a playful pup can be beneficial by keeping you healthier, happier, and safer! So, when it's their day, you know that you have to have some fun! On Wednesday, August 26th, celebrate National Dog Day with your four-legged pal at these dog-friendly locations in McAllen!
This local favorite specializes in bringing delicious, locally-grown, and sourced foods to your table. And their patio is perfect for some time with your dog! Bodega Tavern & Kitchen is open daily from 12:00 PM to 10:00 PM.
McAllen Dog Park
– The Corner of Tamarack Avenue and N. 5
th
St.
With plenty of room to run around, this dog park allows dogs and their owners to have unforgettable fun! There are also doggie bags available to keep the park clean.   

For outdoor snacking and feasting, don't look any further than the McAllen Food Park! Located across the street from Archer Park, this spot features Mexican and American cuisine, including Sno Bros Raspas, Se Ver Mal, and more! Hours vary for each food truck, but all are open on the weekends until 10:00 PM.
MoonBeans Coffee is an excellent spot for freshly-roasted coffee and baked goods. Their new location at 5524 N. 10th St. is great for four-legged family members to hang out! MoonBeans Coffee is open daily from 7:30 AM to 10:00 PM.
Oval Park
– 1000 S. Ware Rd.
Located next to the McAllen Performing Arts Center, Oval Park offers over two acres of beautiful scenery filled with native plants and trees in a perfectly-landscaped area. This park also features an incredible water fountain that leads to a reflective pond, providing picturesque views.
This cozy café specializes in dessert pies but also offers a complete menu of meat pies, soups, salads, and sandwiches. It welcomes you and your pup Tuesday through Saturday from 11:00 AM until 7:00 PM. 
This locally-owned coffee shop has made-from-scratch pastries, loose-leaf teas, and craft special coffee. Plus, it offers online ordering. Reserva is open Monday through Thursday from 7:00 AM to 8:00 PM, Friday and Saturday from 7:00 AM to 9:00 PM, and Sunday from 8:00 AM to 8:00 PM. 
This coffee shop has really made a name for itself in McAllen! It offers freshly-roasted coffees and adult beverages to help cool you off as well.  It's open Monday through Friday from 8:00 AM to 8:00 PM and Saturdays from 9:00 AM to 8:00 PM. 
Have Fun with Your Dog in McAllen!
On August 26th, have fun on National Dog Day in McAllen! Explorers, make sure to take a photo and tag us so we can share it on our TikTok, Facebook, Twitter, and Instagram pages!