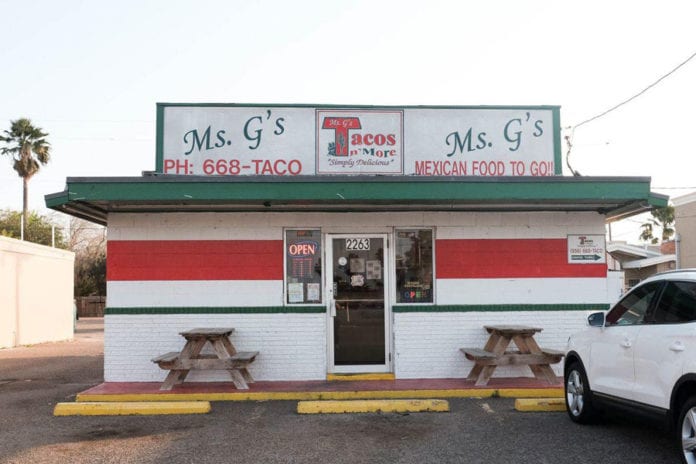 The taco is one of the most popular dishes in the country, and with National Taco Day coming up on October 4th, many spots across America will be celebrating in full force. But true taco aficionados know that McAllen has the best, authentic tacos! With so many taco spots to choose from in the city, we've made a list so you can celebrate!
Ms. G's Tacos N' More
2263 Pecan Blvd.
Ms. G's Tacos N' More is addicting. While all of their food is undoubtedly worthwhile, their breakfast tacos are their staple. And to start off Taco Day the right way, stop on by! We suggest going early because their wait lines get long. Greatness takes time and we promise it's worth the wait!
Photo courtesy of Ms. G's Tacos N' More on Facebook.

Container Taco Factory
7824 N. 23rd St.
As the newest kid on the block, Container Taco Factory's aesthetic will instantly catch your eye. It's housed out of a giant storage container and their menu is just vibrant. They have a range of tacos to choose from served with a side of beans and red or green salsa. 
Photo courtesy of Container Taco Factory on Facebook.

Taquero Mucho
700 S. 23rd St.
The name says it all. This food truck revolves around all things Mexican food. With a variety of Mexican plates, lonchés, sincronizadas, and, of course, tacos, Taquero Mucho will not disappoint! 
Photo courtesy of Taquero Mucho on Facebook.

El Rodeo Taco Express
6300 N. Ware Rd.
El Rodeo Taco Express is one of McAllen's go-to taquerias on the weekend, so it only makes sense for it to be on our list! Offering tacos, tortas, lonchés, and more in an outdoor setting, you won't be disappointed when you stop by!
Photo courtesy of El Rodeo Taco Express on Facebook.

Tacos Kissi
705 S. 10th St.
Tacos Kissi is a small but very welcoming restaurant with an outdoor patio. You can find classic Mexican dishes like tacos, seafood options, and even sushi!
Photo courtesy of Tacos Kissi on Facebook.

Costa Messa
5248 N. 10th St. and 1621 N. 11th St.
The classic Costa Messa. They have tacos, adult beverages, Mexican plates, and so much more. They also offer a great atmosphere, excellent customer service, and even take out. If you want a hearty taco plate, then there is no better place than Costa Messa! 
Photo courtesy of Costa Messa on Facebook.

Piporro Taqueria Jalisco
5000 N. 23rd St. Ste. A
Taqueria-style Mexican food with a variety of tacos at a reasonable price? You'll definitely find that and more at Piporro Taqueria Jalisco!
Photo courtesy of Piporro Taqueria Jalisco on Facebook.
Share Your Taco Spot with Us! 
Did we miss your favorite spot? If so, send us a message on Facebook to add to our list! Have fun on October 4th and enjoy your tacos!