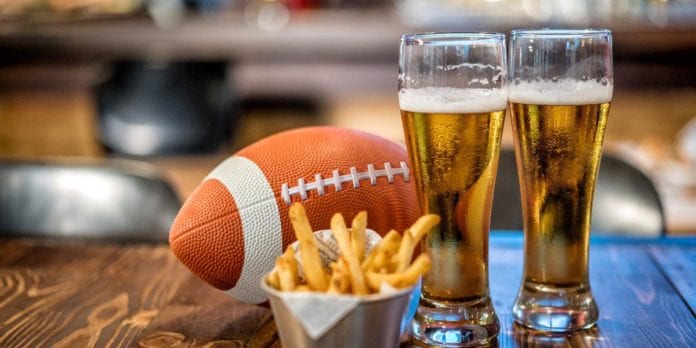 It's that time of year again! College football is back, and pro football is right around the corner! McAllen has some spots you can definitely kick back at to watch the game. Round up the guys, get a cold brew and relax while relishing in the greatness that is good, American football!
Here are some spots in McAllen to keep in mind during these upcoming months:
Buffalo Wild Wings – Ware Rd. and Expressway 83 & 10th St. and Nolana Ave.
With both traditional and boneless wings, Buffalo's also offers a variety of sauces to choose from. You can't go wrong with gathering the guys up for some casual dining with wings and beer at Buffalo's!
Buffalo Wings & Rings – South 10th St. & North 10th St.
Not to be confused with Buffalo Wild Wings, this establishment also offers some tasty wings in addition to onion rings. If onion rings are at the top of your list, then you've found yourself a new go-to place for the rest of the season. Did we mention they have over 30 screens at both McAllen locations?
Bubba's 33 – Expressway 83 and 26th St. (in front of Dave and Busters)
Come for the food, stay for the game! Bubba's is known for their extensive pizza options as well as their bold burgers. Can't decide if you want pizza and beer or burgers and beer? Here, you can have both! And football. Enough said.
Tilted Kilt – Expressway 83 and Ware Rd. (next to Cracker Barrel)
With an extensive menu and 30+ beer brands, this is somewhere college football fans can come together and root for their favorite team while enjoying a nice cold one served by their Kilt Girls.
Dave and Busters – Expressway 83 and 26th St. (behind Bubba's 33)
If you want to watch the game with your family, then this place is perfect to keep the kids preoccupied! Enjoy some good American-style food while the kids enjoy the arcade games. It's a win-win for everyone!
360 Sports Theater – South 10th St. and Toronto Ave. (across La Plaza Mall)
If you're looking to experience college football in all its glory while feeling like you're eating at home, then this is the place to be. Enjoy mouth-watering burgers, tacos and beer surrounded by TVs lining every wall in the restaurant.
Wing Barn – N. 10th St. and Dove Ave.
Another place with a laidback atmosphere, Wing Barn is the goldmine of wings. This spacious setup allows for some chill, quality time with your friends while you enjoy the game together. They also have wing specials all week, so that's always a plus!
Enjoy Football Season the Right Way
There are so many McAllen Sports Bars to enjoy some football. Aside from all of the ones mentioned above, you can find other establishments here. Whether you're in the mood for a relaxed setting or a place where the kids can also enjoy themselves, there's something for everyone. Wherever you go, snap a photo of your food and use #mcalleneats and #mcallendrinks on Instagram to be featured on our Foodie Friday stories!