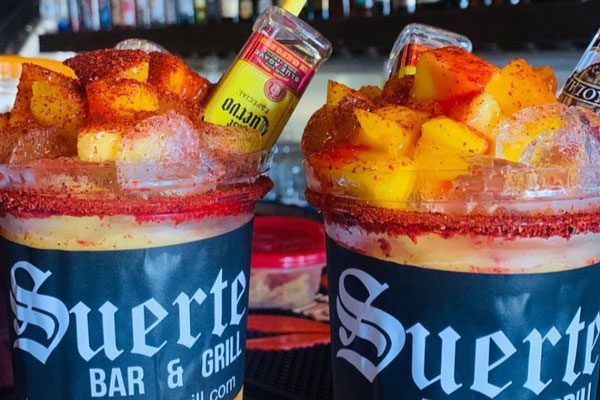 McAllen has tons of restaurants and bars with amazing adult beverages, but with so many to choose from, we decided to narrow it down into a simple list with each location focusing on their margaritas! Here are 10 bars and restaurants in McAllen to snatch a margarita!

Suerte Bar & Grill 
Uptown location: 400 W. Nolana Ave.
Downtown location: 301 S. 17th St.
If you're a McAllen native, then you've definitely heard of Suerte Bar & Grill. One of the most popular and creative bars out there, Suerte is always serving great drinks. Now, while they have many noteworthy beverages, we're focusing on their margarita called "La Maceta." This 32 oz. top-selling beverage is almost too pretty to drink! It's topped with Chamoy and chunks of mango, and you can even add additional shots for a bigger kick.  Order here!
*PHOTO ABOVE* courtesy of Suerte Bar & Grill.

Costa Messa 
North location: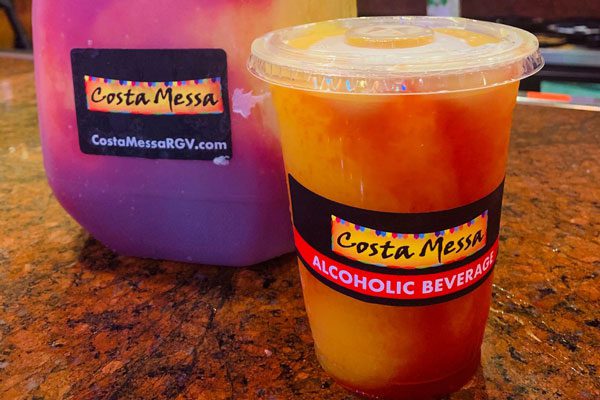 Photo courtesy of Costa Messa.
5248 N. 10th St.
Original location: 1621 N. 11th St.

Costa Messa is a local favorite when it comes to authentic Mexican food, but did you know this restaurant has some of the tastiest frozen margaritas to-go as well? That's right! You can have your entire household singing karaoke by the end of the night with these margaritas!
The Quarter New Orleans Kitchen and Tap Room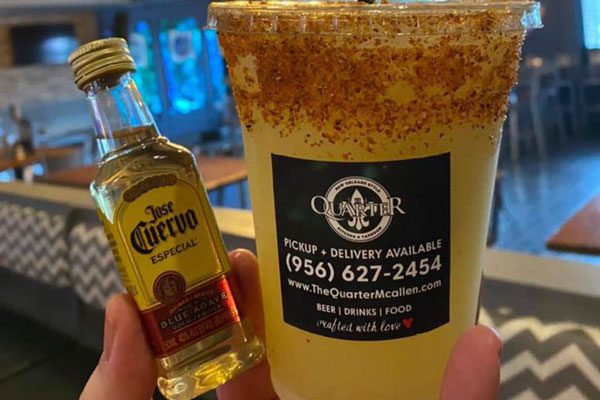 Photo courtesy of the Quarter New Orleans Kitchen and Tap Room.
100 E. Nolana Ave. #155
Looking for over 100 beers on tap? The Quarter has that and a delicious brunch special that includes barbacoa, beans, potatoes, tortillas, jalapenos, salsa, onions, and cilantro for only $20! As for their margaritas, they're so good that you'll probably order two! We have to mention their White Claw Slush and Mexican Lollipop Slush drinks as well! Their names alone should spark your curiosity!
El Divino Dining & Cocktails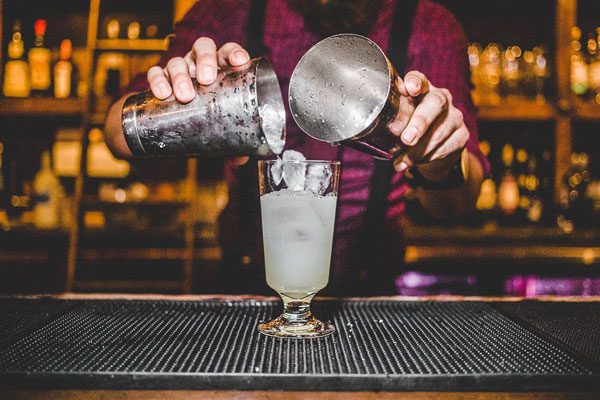 Photo courtesy of El Divino Dining & Cocktails.
5001 N. 10th St.
El Divino has always raised the bar when it comes to delectable food and drinks. With the largest selection of whiskey south of San Antonio, it's no wonder they've been a local favorite for so long. Let's talk about their to-go kits. They include margaritas, the classic old fashioned, Moscow Mules, and Cucumber Martinis! You can take any of these home!
Bourbon St.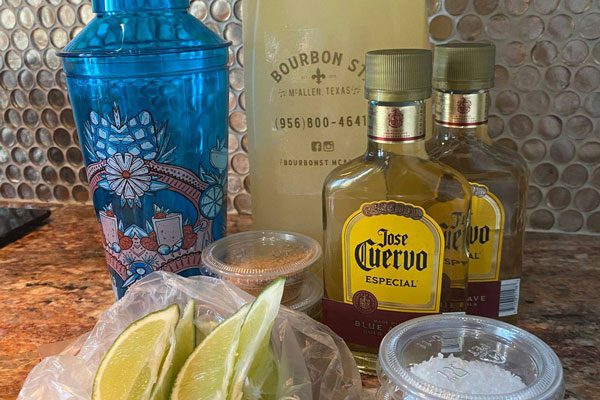 Photo courtesy of Bourbon St.
4800 N. 10th St.
Bourbon St. has food that's finger-licking good! With social distancing measures, this spot has also made live performances safe for visitors and mastered to-go beverages with their margarita kit that includes lime, salt, and, of course, Mr. Jose Cuervo. Find more info here!

Republic of the Rio Grande 
Photo courtesy of Republic of the Rio Grande.
1411 S. 10th St.

With brick oven pizzas, pastas, steaks, and so much more, Republic of the Rio Grande knows how to quiet a rumbling stomach. For alcohol, this spot has a sophisticated range of spirits and mixed drinks, and their margaritas are no exception! Their blackberry pomegranate margarita has the perfect amount of tartness and sweetness. It's the perfect addition to any of their delicious meals!
Bodega Tavern & Kitchen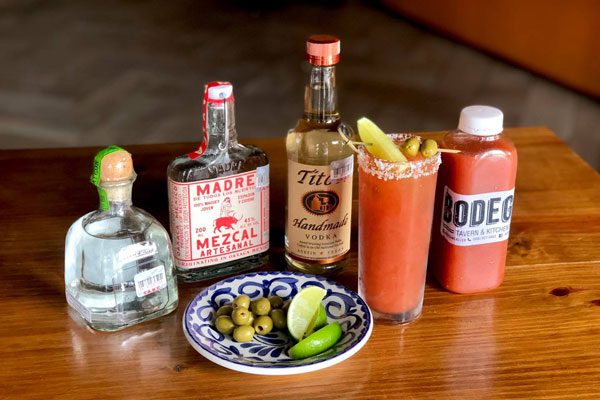 Photo courtesy of Bodega Tavern & Kitchen.
2901 N. 10th St.
Bodega Tavern & Kitchen has brought upscale casual dining into homes with their to-go meals and, of course, drinks! This spot has various to-go beverage kits for Bloody Marys, paloma cocktails, mimosas, and margaritas! These kits can serve four to six people. If you don't want to share, we don't blame you. 
SALT – New American Table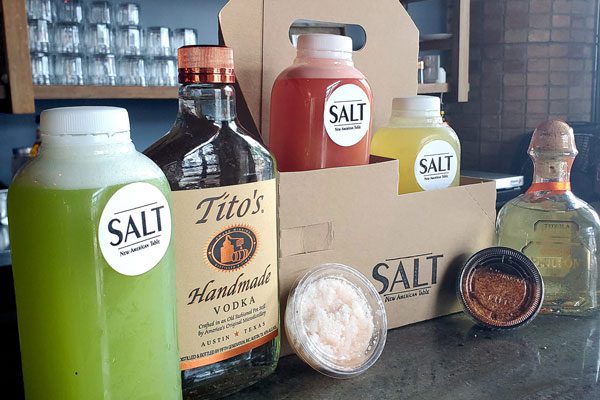 Photo courtesy of SALT – New American Table.
210 N. Main St.
If you want an upscale experience at home, then this is it! Breaking onto the scene with vibrant flavors and taking the Rio Grande Valley by storm, SALT – New American Table is more than just a restaurant – it's an experience! With so many amazing dishes, we need to reign it in and talk about their cocktail kits! Get a Salty Dog, cucumber, or margarita kit to-go with an amazing family dinner for four!

Salome on Main
Photo courtesy of Salome on Main.
1409 N. Main St.
Looking to experience the flavors of Mexico? Then stop by Salome on Main! Enjoy their Costillita Pibil, which is Akaushi smoked short rib with rice, beans, salsa, onions, cilantro, and nixtamal tortillas for carryout. Be sure to upgrade with a margarita flask filled with freshly-squeezed Salomé margaritas, pre-mixed and ready to pour. 
Dirty Al's Bayou Grill
Photo courtesy of Dirty Al's.
5712 N. 10th St. #400
Dirty Al's has taken the reins when it comes to seafood and quality drinks. With coconut, regular mango, and strawberry margaritas on their menu, we want one to-go! At Dirty Al's, every day is Friday, and with quarantine, who said it can't be? Thanks, Dirty Al's! 
Bubba's 33
Photo courtesy of Bubba's 33.
2608 W Expy 83
One of the newest kids on the block, Bubba's 33 has already made a huge name for itself in McAllen with its relaxed atmosphere and great tasting food. As far as their margaritas go, they have everything from spicy, fruity, all American, or traditional flavors. It's a great place whether you are taking it to-go or dine-in!
Kiss & Fly Shot Bar
Photo courtesy of Kiss & Fly Shot Bar.
5204 N 10th St
This hidden gem on 10th St. crafts delicious cocktails, drinks, and food! From sliders to cauliflower wings, they have something for everyone. And their drink menu? They have an endless selection of all your favorite drinks including margaritas and even a slushie margarita. YUM!
London Grill & Tavern
Photo courtesy of London's Grill & Tavern.
129 E Nolana Ave
Ah, yes, London's Grill & Tavern. They've been selling great food and drinks since they opened. Their margaritas? Wow. Choose from strawberry, tamarindo, mango, and of course their traditional house margarita! The most notable what their resilience during this pandemic, adapting their to-go menu by adding a window to their location to make it more convenient for customers!