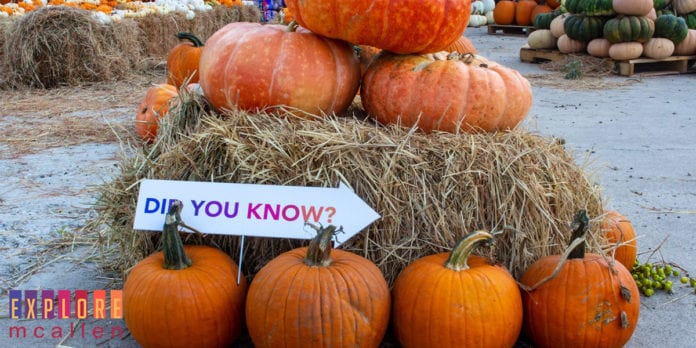 Get ready for some spooktacular events, live music, and many more things to do in McAllen! There'll be no shortage of fun in the fall in McAllen this October.
Whether you're looking to explore McAllen for all things spooky, take photos with your family at local pumpkin patches, or enjoy the outdoors, there's something for everyone in McAllen! Check out all of these events happening in October!
Make time with your friends and family to visit these Pumpkin Patches in McAllen:
It's open Friday from 5:00 PM until 9:00 PM, Saturday from 11:00 AM until 9:00 PM, and Sunday from 12:00 PM until 8:00 PM.
Located at 4124 Lark Ave.
(956) 215-1205
Adults: $7
3 years and older: $3
2 years and under: Free
It's open Monday through Friday from 3:00 PM until 8:00 PM, and Saturday and Sunday from 10:00 AM until 8:00 PM.
Located at 6712 N. Bentsen Rd.
(956) 457-3035
Adults: $8 Monday through Friday, $10 Saturday and Sunday.
2 years and under: Free
It's open Tuesday through Saturday from 8:00 AM until 5:00 PM. Thursday's until dark.
Located at 600 Sunset Drive
(956) 681-3370
Adults: $3
Seniors and Children 12 to 3 years old: $2
Free admission to members and children ages 2 years and under.
Open until October 31, 2019.
Spooktacular Events and Attractions:
Tuesday, October 29th
Wednesday, October 30th
Thursday, October 31st
Eat, Drink, and be Scary, Explorers!
As always, snap a photo during any of the events you visit and tag us! Use #exploremcallen, #mcalleneats, and #mcallendrinks to be featured on our social media accounts!