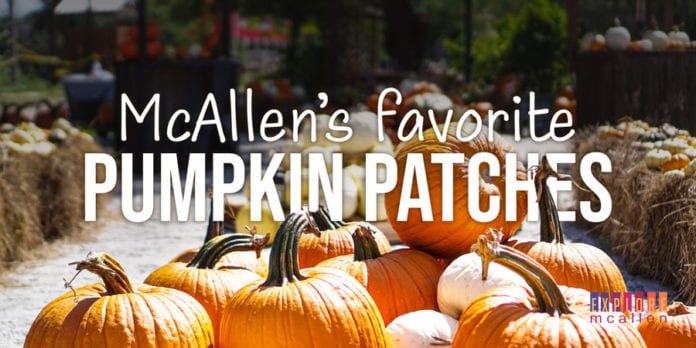 It's fall in the Rio Grande Valley and pumpkins are taking over everything! Pumpkin-spiced drinks, pumpkin-themed decor, pumpkins, pumpkins, pumpkins! And our personal favorite – McAllen Pumpkin Patches.
6712 N. Bentsen Rd.
$10 per person | $125 for professional photos | $195 for the horse/ llama package
Hours of Operation: Saturday – Wednesday 8AM – 8PM | Thursday – Friday 10AM – 8PM
On the right day, you can feel the wind through your hair. String lights are hanging above the main deck where pumpkins are laid out in five piles and a large tree provides shade. You can even hear the cows mooing in the background! At Maddie's Pumpkin Patch, you'll experience country life in the city! This five-acre ranch is large enough to roam while taking an endless number of pictures. It's the perfect backdrop for photographers, Instagram lovers, and families looking for a safe and alternative outing.
Melanie and Rick Vega opened Maddie's Pumpkin Patch in dedication to Maddie, 4, who was in the ICU when she was a year old. After battling pneumonia for two weeks and being sedated the entire time because of her age, she underwent two successful surgeries that allowed her to go home for the start of fall. In honor of Maddie's miracle, Maddie's Pumpkin Patch was born!
Buy tickets for Maddie's Pumpkin Patch here!
301 Pecan Blvd.
$3 per person | Pumpkin Prices Vary
Hours of Operation: Monday – Thursday 2PM – 7PM & Friday – Sunday 1PM – 8PM
Every year, St. Mark's Pumpkin Patch has brought smiles and photo ops to local families of the Rio Grande Valley. This year will mark their 24th Annual Pumpkin Patch. If you're traveling east on Pecan, then you're sure to catch a glimpse of the sea of pumpkins that overfill the yard at St. Mark's.
Buy tickets for St. Mark's Pumpkin Patch here!
More Things to do in McAllen
McAllen is continuously bringing you things to do. If you've found a new spot that you want us to feature, then leave us a message on Facebook, Instagram, and Twitter!