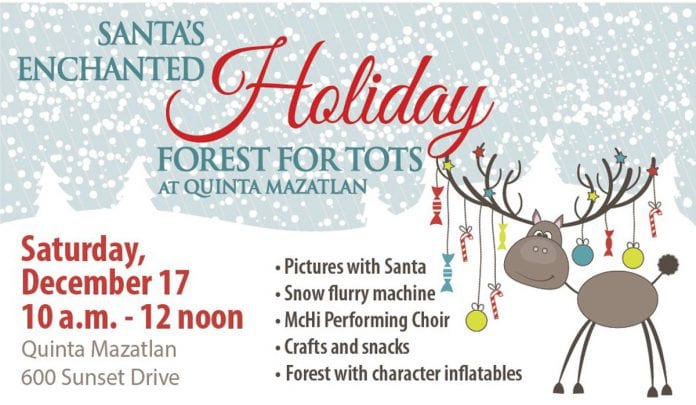 Get ready for the holidays with an enchanted forest adventure! Quinta Mazatlan in McAllen will be hosting "Santa's Enchanted Holiday Forest for Tots" on Saturday, December 17th from 10:00 AM until noon.
This stroller-friendly trail with holiday character inflatables and scavenger hunting activities for young children will have your little ones laughing and learning for all of the surprises in store, including snow flurry machines! They can also expect a visit from Santa Claus! Families will also be treated to a show from the McAllen High School Performing Choir! Enjoy your favorite holiday carols with snacks, creating craft projects and taking many memorable pictures.
Tickets for this event are available in advance or at the gate at Quinta Mazatlan for $5.00 per person; please dress for the weather. For more information, call 956.681.3370 or visit the Quinta Mazatlan website.