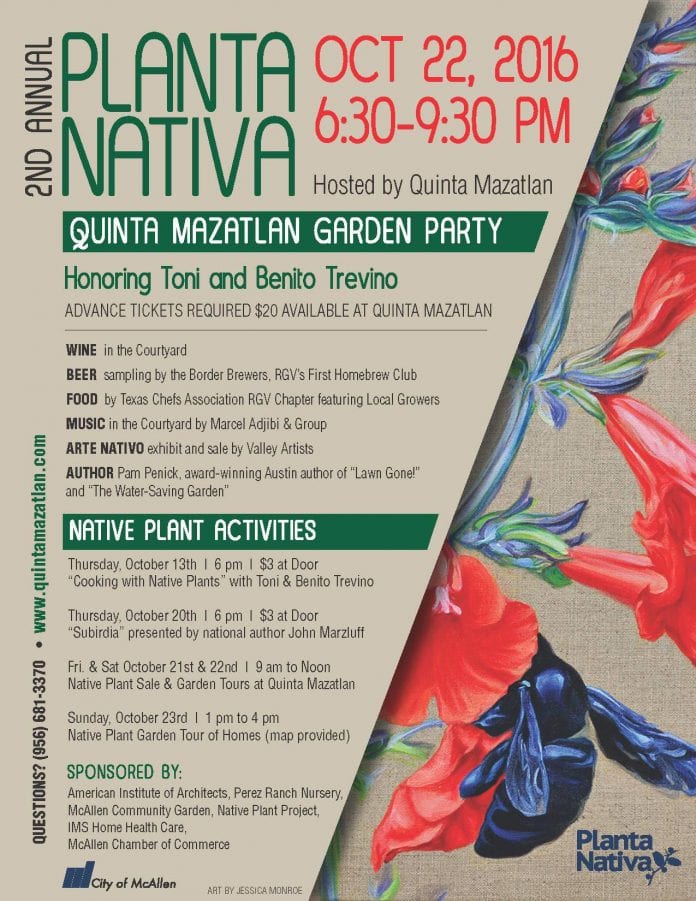 Learn about the many plants native to the Rio Grande Valley and their versatile uses! Quinta Mazatlan World Birding Center is hosting several activities leading up to their second annual Planta Nativa on Saturday, October 2nd.
Native Plant Activities
"Cooking with Native Plants" with Toni and Benito Trevino
Thursday, October 13th | 6:00 PM | $3 at door
"Subirdia" presented by author John Marzluff
Thursday, October 20th | 6:00 PM | $3 at door
Native Plant Sale and Garden Tours at Quinta Mazatlan
Friday and Saturday, October 21st and 22nd | 9:00 AM until Noon
Planta Nativa
Saturday, October 22nd | 6:30 PM until 9:30 PM | $20 advance tickets can be purchased at Quinta Mazatlan
Join Quinta Mazatlan for a night of wine in the Mansion's courtyard, local beer by the Border Brewers, food by the Texas Chefs Association RGV Chapter featuring Local Growers, music in the courtyard by Marcel Adjibi and Friends, an art gallery and sale by local valley artists and keynote speaker and award-winning author of Lawn Gone! and The Water-Saving Garden Pan Penick as the night is dedicated to honor Toni and Benito Trevino.
Toni and Benito Trevino purchased Rancho Lomitas in 1986 where they pursued their passion for growing, selling and teaching others about native plants of the Valley. They have grown and sold over 800,000 seedlings, mostly used for habitat restoration. Benito is a well-known ethnobotanist featured in magazines, television shows and has traveled to Washington, D.C. to promote the Wildlife Corridor.
Guests can take native plant tours at the ranch and are often treated with homemade mesquite cookies and prickly pear lemonade prepared by Toni. It is obvious why the Trevinos are the 2016 Planta Nativa honorees!
Native Plant Garden Tour of Homes
Sunday, October 23rd | 1:00 PM until 4:00 PM
For more information about Planta Nativa, you can contact the Quinta Mazatlan World Birding Center at 956.681.3370.