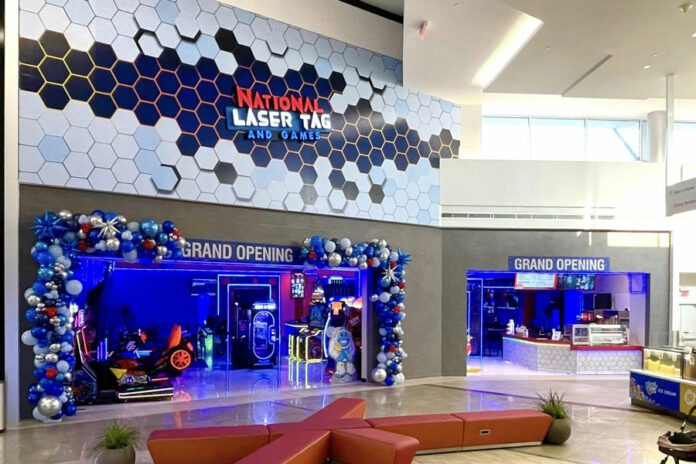 Your summer may be jam-packed with family fun, but what about the adults?! Book a night at one of these six McAllen stores and enjoy these summer experiences for adults in McAllen! Rally your friends and book a Friday night to explore a new activity!
Photo courtesy of Facebook.
Summer Experiences for Adults in McAllen:
National Laser Tag and Games
2200 S 10th St
● Sunday 11 AM – 7 PM
● Monday to Saturday 10 AM – 9 PM
Zap through a fun game with your friends or family night at National Laster Tag and Games at La Plaza Mall! You can compete at an arcade or explore a virtual reality adventure between rounds!

Viva Kandle Bar
6106 N 23rd St
● Tuesday to Saturday 1 – 7 PM
Hate trying to find the perfect candle for your home? Now, you can make your ideal scent at Viva Kandle Bar! Whether you want to self-care in the afternoon or reserve a night out with friends and memories! Visit today and smell their fantastic selection of scents.
MadHouse Rage Rooms
202 S 17th St
● Sunday to Saturday 8 PM – 1:30 AM
Need to let out the rage? MadHouse Rage Rooms is the perfect place to go regarding destruction, chaos, and relieving pent-up stress! Destroy a room and rage all you'd like for a reserved time slot. Find out how online!
CRAFT SOCIAL
4400 N. 23rd St. Ste. 115 & 125
Monday to Thursday 12 PM – 8 PM
Friday to Sunday 12 PM – 5 PM
Need a place to wind down after a long work day? Or want to catch up with your friends over crafts? Then head over to Craft Social at the Mercado District! Get crafty and show your hidden artistic talent by making your own canvas bag, bottle opener, painting, or ceramic! Reserve online!
Rhythm Room
5401 N. 10th St. Ste. 215
Dance to the beat of your drum at Rhythm Room in McAllen! Sign up to learn how to salsa, swing, bachata, tango, and more in a fun-casual dance class for beginners and dance enthusiasts. Partner up and request a private lesson, too!
McAllen Stained Glass
800 N. Main St. Ste. 400
Monday to Thursday 10 AM – 4 PM
Explore your creativity, and try something new at McAllen Stained Glass! Not only can you buy creative works, but you can register for a private class for you and your friends. Learn the technique and create wine glass charms, clocks, votives, and more! Sign up today for some great summer experiences for adults in McAllen.