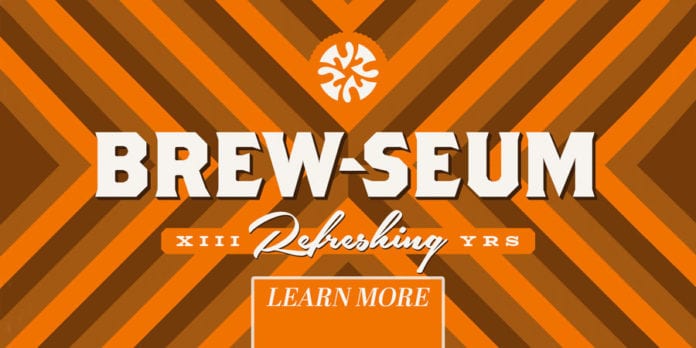 Celebrating McAllen's ever-growing love for the world's oldest fermented beverage, Brew-seum was created as a fundraiser to benefit the International Museum of Art & Science (IMAS). This year, celebrate with a virtual 5K, beer dinner, beer yoga, and more! 
All guests must be over 21 to participate. 
Lineup of Events
Brew-seum Virtual 5K
April 3rd through April 30th
Calling all runners! Run, drink beer, and have fun! With this virtual 5K, run on a treadmill, a McAllen trail (find those here), or around your neighborhood. Afterward, check-in at University Drafthouse at Town Lake during their hours of operation for your FREE drink!
All race packets will include: 
A runner's bib
A voucher for a free drink at UDH Town Lake
A Brew-seum 5K medal
A Brew-seum towel
Race info and suggested route
Sponsor swag
Packet pickup is on Saturday, April 3rd from 10:00 AM until 1:00 PM at the Charles Clark Chevrolet Dealership at 801 W. Business 83. Prices include $30 for the race packet and the $25 IMAS member price.
Beer Dinner at University Drafthouse Town Lake
April 5th from 7:00 PM until 9:00 PM
We've all been anticipating the newest University Drafthouse location at Town Lake in McAllen. With beautiful views of the lake, you're going to be in for a treat since this event includes beer paired with a four-course meal! 
Ticket prices include:
$100 per seat
$85 per seat (IMAS Member price)
A Night at the Brew-seum
April 15th
You're going to have a howling good time at "A Night at the Brew-seum!" Gather up your "quaranteam" or invite a date or friend and listen to the fabulous dueling pianos from Howl at the Moon! Social distancing will be enforced.  
Ticket prices include:
$250 per couple
$460 for a double date (four people)
$630 for a small soiree (six people)
$840 for the dream team (eight people)
IDs will be checked at the door. 
A Virtual Brew-seum at Home
April 15th 
Stream all the magical sounds of the dueling pianos of Howl at the Moon from the comfort of home with a $100 "Brew-seum at Home" kit (serves two)! Curbside pickup will be available the day before on April 14th at the IMAS. ID is required. 
Beer & Yoga with Casa Om Yoga
April 17th
10:00 AM until 11:30 AM
Includes the $30 yoga class and packet and $25 IMAS member price
Complimentary beer will be provided by Four Corners Brewing
Bring your own yoga mat to participate! Participants will receive a Brew-seum towel and sponsor swag. All guests must be over 21, are required to follow Brew-seum safety guidelines, and complete a health safety questionnaire. IDs will be checked at the door. Doors open at 9:30 AM.
Virtual Yoga with Casa Om Yoga
April 17th 
10:00 AM until 11:30 AM
Includes a $5 virtual pass
All virtual yoga participants will receive a single-use code for the yoga class
Find your Zen in the comfort of your own home with Casa Om Yoga! If purchasing a virtual yoga pass, instructions and access to the class will be emailed directly to the ticketholder. Codes are single-use and will be emailed prior to the class.