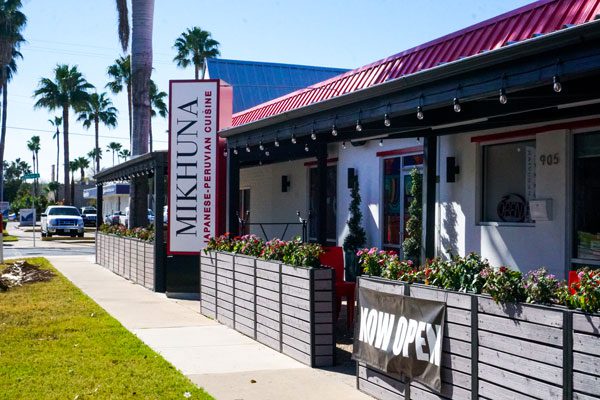 McAllen has always been a hub of great places to enjoy, from unique shopping spots to delectable eateries. Since the city is always growing and new locations are always opening, we wanted to highlight five new restaurants to try!
Click on each location's name for more info!
1600 N. 10th St.
Rosmaní's fine-dining experience is unlike anything you'll experience. This spot's Chef Graham Campbell is the youngest person from Scotland to be awarded a Michelin Star. He was also a contestant on Netflix's The Final Table in which 12 pairs of chefs from around the world prepared dishes with celebrity ambassadors, food critics, and great chefs judging them.
"Graham's cuisine has an enormous respect for the nature of the ingredients, which he enhances and elevates, creating truly unique fusions."
– Rosmaní 

905 N. Main St.
Mikhuna is the newest restaurant of the Il Forno brand, but with a completely different experience! This fine-dining spot will have your taste buds dancing with the freshness of Japanese cuisine and spicy punch of Peru.
315 W. US Business 83
For a full ramen experience, Yasuke is the place to go. It's been a long-time favorite of McAllen's sushi-loving crowd, and now their newest location is not only bringing sushi, but also ramen and a bar! With an array of ramen bowls to choose from, like egg or soba noodles, Yasuke brings you noodles packed with flavor. Their bar is also stocked with Japanese and Asian spirits.

110 N. 16th St. Ste. C 
Balsero is a hidden gem in McAllen that opened recently and is already receiving praise for its food and hospitality. Serving up Cuban-rich-infused signature dishes, their flavors and spices will definitely ignite your taste buds.
400 W. Nolana Ave. Ste. A2
Who doesn't love seafood? Now, there isn't a lot known about Krab Kingz McAllen, but based on what it posts on Facebook, it looks so good! Crabs, crawfish, and a variety of flavors including spicy, Cajun, original, honey garlic, lemon pepper, and more will all be available. No date has been set for its grand opening, but it's only a few weeks away!
Did We Miss Anything?
If we happened to miss anything, then let us know! Be sure to follow us and check in every so often for more fun things to do in McAllen!