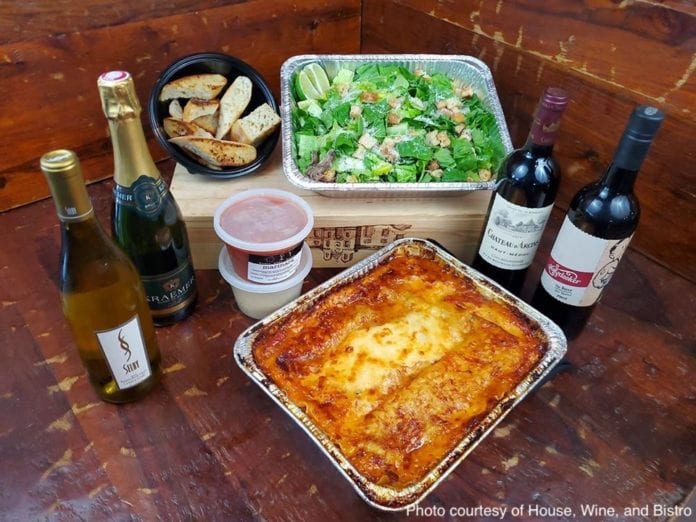 Despite stay-at-home orders being lifted and shops opening up, many restaurants are still offering patrons curbside pickup service. If you're unsure of what Mom wants to dine on for Mother's Day at home, here's a list of locally owned and operated restaurants offering Mother's Day specials!
Tony Roma's
Give Mom a day off from cooking and treat her to one of Tony Roma's family packs that can feed a family of four! Call 956-631-2121 for information about these family packs or to place your curbside pickup order!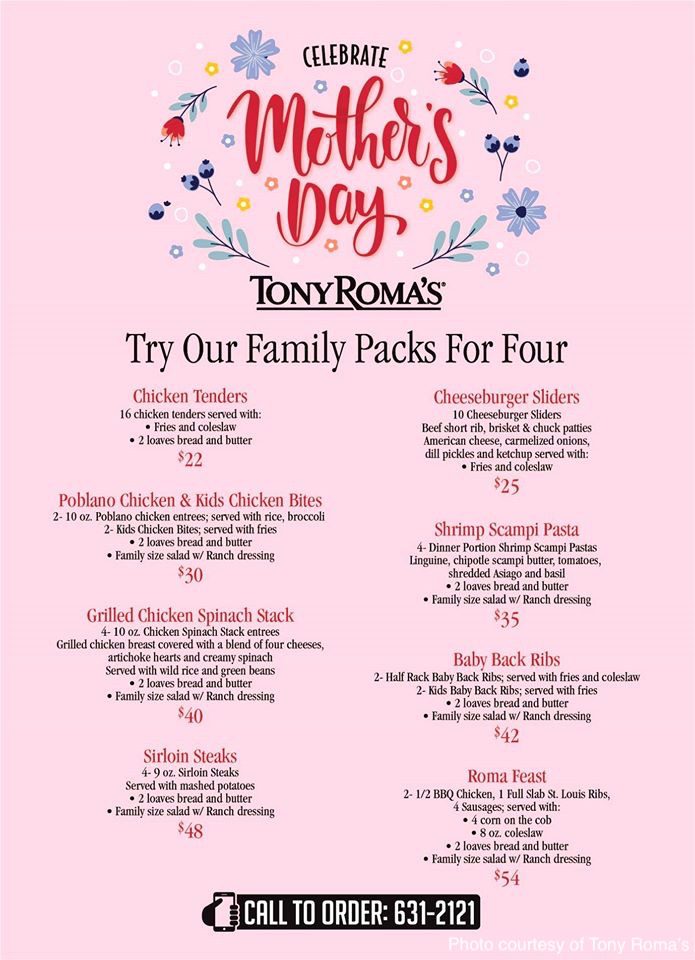 house. wine. & bistro.
Celebrate Mother's Day with house. wine. & bistro. and their delicious family package: a lasagna dish with 2F Akaushi Beef, a Caesar salad, focaccia bread, your choice of two wines, and a mimosa kit! This package is $140 and is available Friday and Saturday only for curbside pickup. Place your order by calling 956-994-8331 or visit housewineandbistro.com.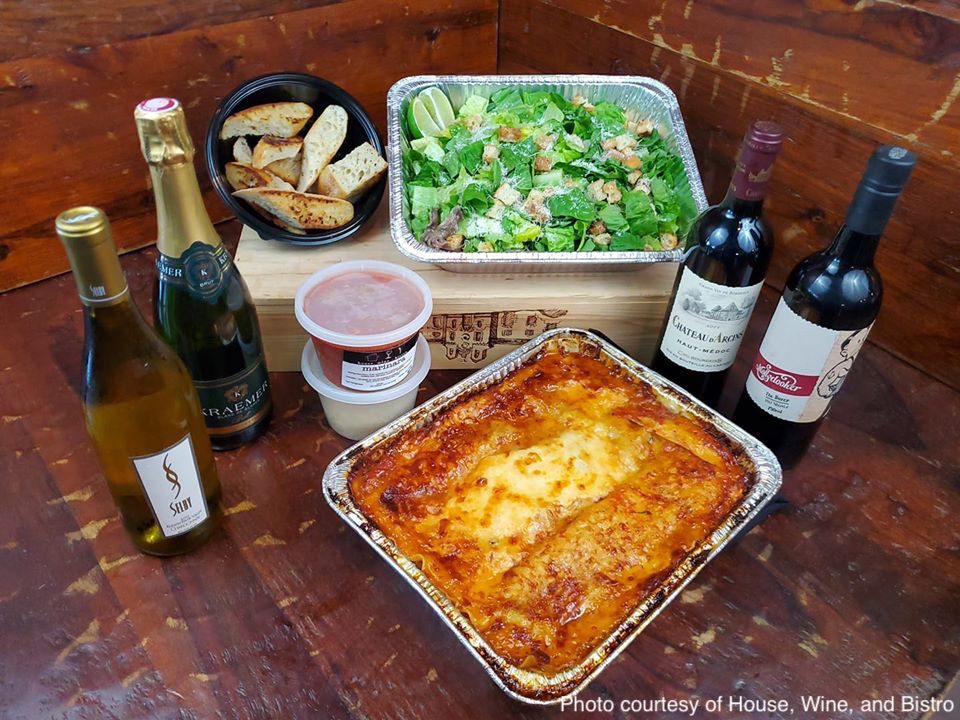 SALT New American Table
Treat Mom to an amazing fried chicken dinner from SALT New American Table! It feeds four to six people and includes two bottles of wine and a mimosa kit for Sunday! This package costs $140 and is available Friday and Saturday from 4:00 PM until 9:00 PM for curbside pickup and delivery. To place your order, call 956-627-6304 or visit saltnewamericantable.com.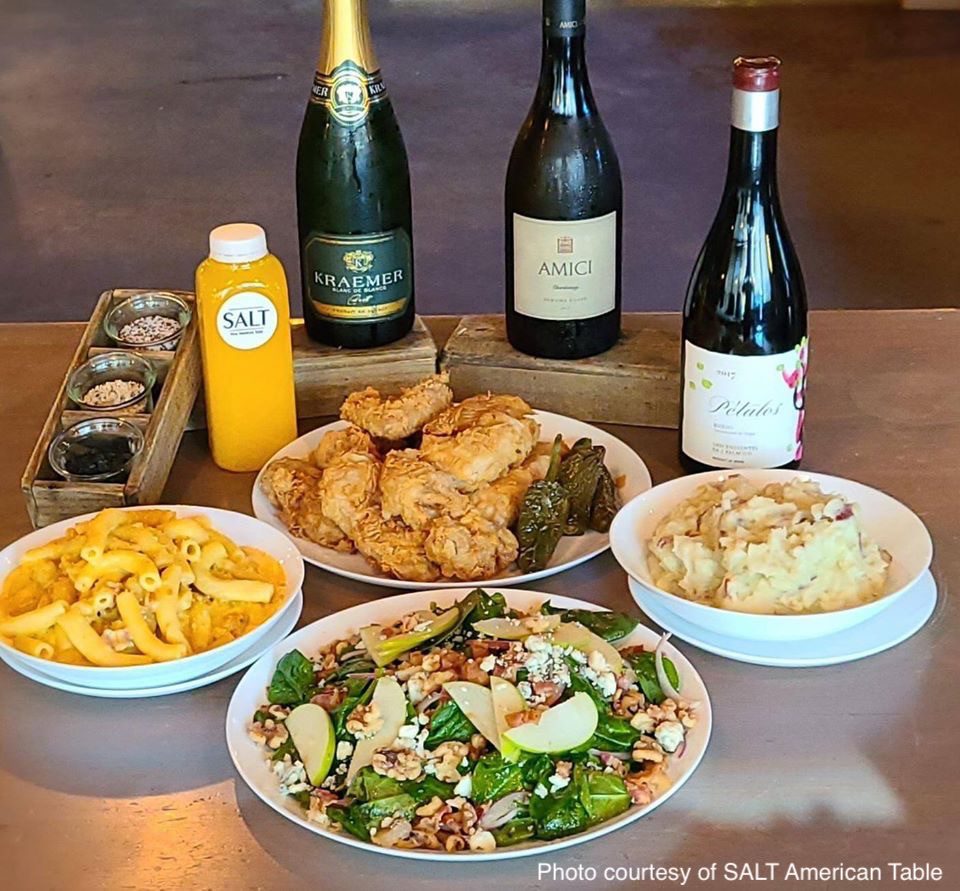 Salome on Main
Treat Mom to an early Mother's Day upscale meal featuring braised short rib in mole, sides of rice and black beans, a family-style corn salad, 24 tortillas, and a side of salsa! This feast also includes a choice of two wines:
Santo Tomas Viognier
Monte Xanic Chardonnay
Casa Madero Shiraz
Annabella Cabernet
Hansel Pinot Noir
Salome on Main will also include a traditional mimosa kit! This feast feeds up to six people and is available for $140. These deals are available Friday and Saturday only. To order, call 956-267-1150 or visit salomeonmain.com.
Don Pepe's Mexican Restaurant
If Mom loves traditional Mexican cuisine, then treat her to a meal at Don Pepe's Mexican Restaurant! Curbside pickup is available, so place an order by calling 956-631-8516.
Edible Arrangements
Make Mother's Day memorable by giving mom a delicious arrangement of chocolate-covered strawberries and freshly cut fruit. Order now by calling 956-668-0555 or visiting ediblearrangements.com.
Prime by Il Forno
Prime by Il Forno is treating mothers with a free meal! Come by on Sunday and purchase two entrées, and Mom eats for free! This special is for dine-in only at Prime by Il Forno. To make your reservation, please call 956-540-2280.
Suerte Bar & Grill
Show Mom you love her with a heart-shaped taco and lonché combo! This special is only available at the Suerte Uptown location. Order now by calling 956-432-8841 or by visiting suertebargrill.com.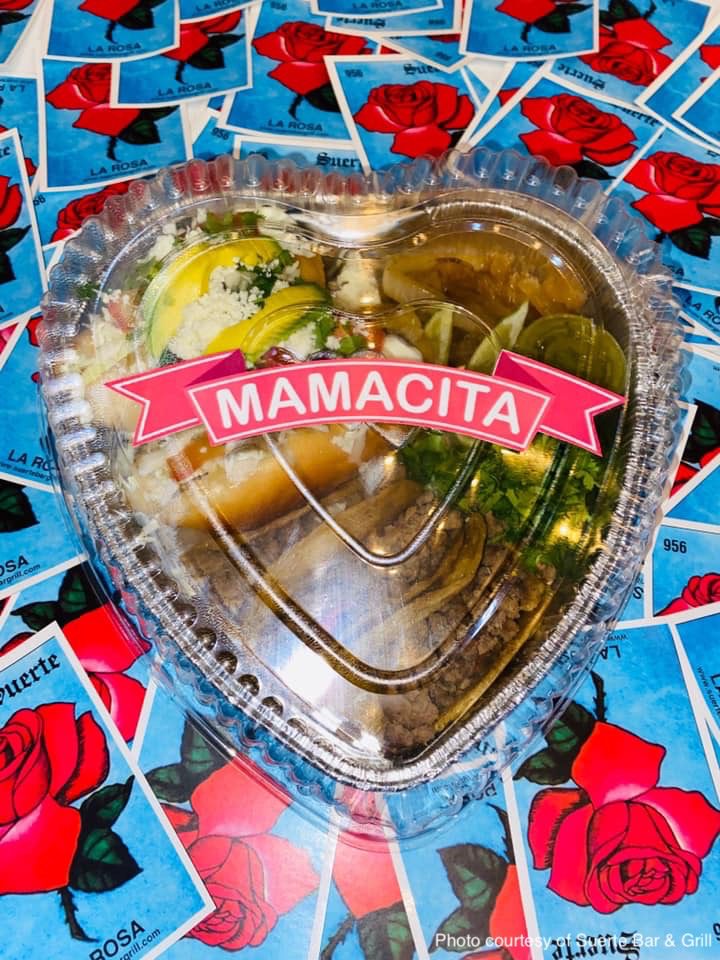 Taco Palenque
Celebrate Mother's Day with a delicious beef or chicken fajita platter, available all weekend! Call 956-233-8226 to place your order or visit tacopalenque.com. The Mother's Day special cannot be combined with any other discounts or specials.
Mori Japanese Grill
Give Mom an incredible Japanese meal she won't forget with this Mother's Day pack from Mori Japanese Grill! It includes:
1 earth sushi roll
1 fortune sushi roll
1 salmon-fire sushi roll
1 salmon-fresh sushi roll
1 dragon sushi roll
1 grilled edamame
3 sides of mori rice
2 Sunomono salads
1 sparkling wine and orange juice
Enjoy all of this for only $49.99! Call 956-631-2590 or visit morirgv.com to order your Mother's Day Package!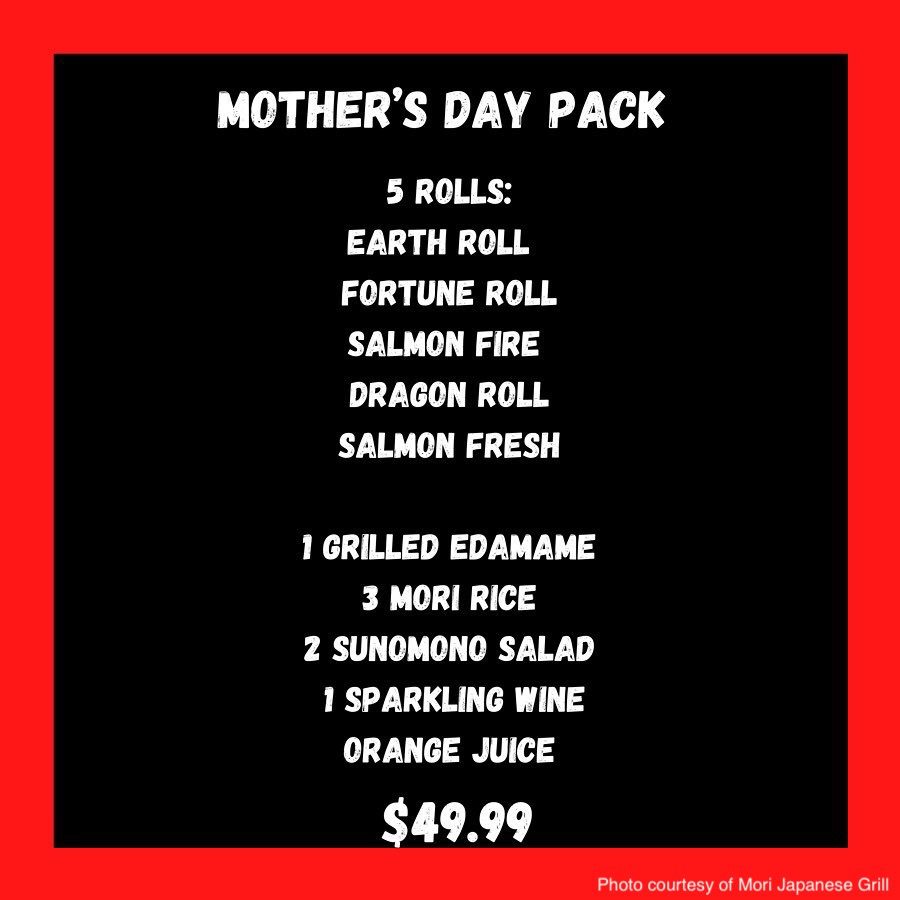 Have Fun on Mother's Day, Explorers!
Let us know how you're celebrating Mother's Day in McAllen by following and tagging us on Facebook, Twitter, and Instagram!