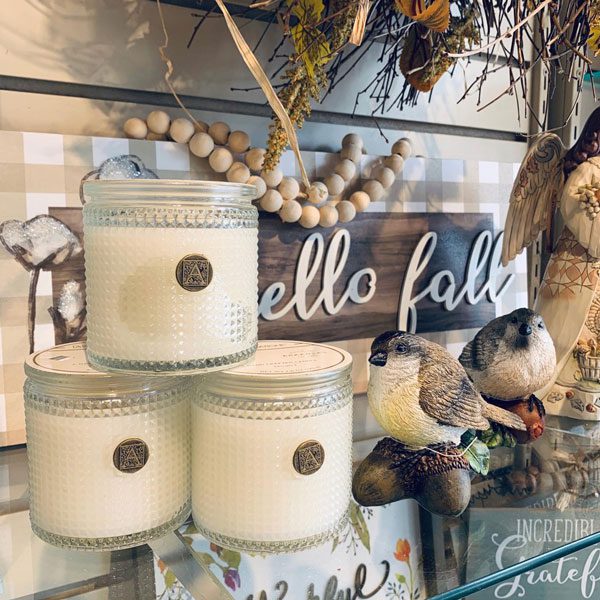 Are you in holiday mode already? Why not start your holiday shopping, too? Whether you're looking for candles, fashion, or decorations, they can all be found in McAllen! Check out this list of local shops in McAllen. And remember, if we missed one, be sure to let us know!
1416 Fresno Ave.
Photo Courtesy of Amistad Floral & Crafts Facebook.
After setting foot in Amistad, no other craft shop will compare. It comprises two buildings. The first is full of everything you'll need for crafting like florals, Styrofoam, and more. The second building is a winter wonderland perfect for getting you into that holiday spirit. From ribbons of almost every color to holiday picks that can be used in your wreaths or trees, you'll find it all here.
2101 N. 11th St. Ste. A
Photo Courtesy of Cielito Lindo Mexican Boutique Facebook.
If you're tired of gifting repetitive items each year and are looking for something culturally-rich, then Cielito Lindo has it! This McAllen boutique focuses on handmade items by Mexican artisans like traditional dresses, tops, jewelry, handbags, and accessories.
6500 N. 10th St. Ste. H
Photo Courtesy of Maripoza Boutique Facebook.
Fashionistas, unite! Maripoza Boutique has holiday gifts for that person looking for some extra flair in their wardrobe. They have accessories, apparel, shoes, masks, jewelry, mugs, and more. If you're unsure of what to gift someone for the holidays, then be sure to stop by!
5401 N. 10th St. Ste. 125
Photos Courtesy of The Hat Bar Co. Facebook.
Edgy, hip, and unique, The Hat Bar Co. is perfect for those always ahead of fashion trends. With carefully selected hats, The Hat Bar Co. has numerous felt and straw hats and caps. They also have selected men's apparel from tops to jeans!
Photo Courtesy of The Leona.Style Facebook.
Looking for stylish trends that fit your everyday lifestyle? Leona.Style is the spot for you! They have everything you're looking for whether you're checking someone off your Holiday list or splurging on yourself. From luxury clothing to beautiful jewelry staples, we promise Leona is going to be your new favorite go-to local shop!
5401 N. 10th St. Ste. 114
Photo Courtesy of All Your Bliss Facebook.
Luxury fashion at a great price? You'll find it at All Your Bliss! It offers authentic, highly collectible, limited edition "loved" luxury items. You'll find name brands like Michael Kors and Louis Vuitton here, so surprise that special person in your life with something luxurious!
800 N. Main St.
Photo Courtesy of Barté Facebook.
Inside the Concept Gallery on Main St. in McAllen is Barté. It has stunning, hand-painted, personalized hats for women, children, and men. These one-of-a-kind items encompass designs that range from beautiful flowers to more intricate floral filigree. These beautiful hats make truly unique and breathtaking gifts.
4300 N. 10th St. Ste. C
Photo Courtesy of Oh Kay's! Facebook.
Oh Kay's in McAllen has everything you're looking for when sprucing up your home. Each season, they have something new, always cute, and full of personality. You can find jewelry, table decorations, candleholders, vases, plating sets, purses, welcome mats, and more!
212 N. Main St.
Photo Courtesy of Goma Boutique Facebook.
This boutique is unlike any other. It has an array of apparel, shoes, purses, headbands, and more. You'll also find eclectic decorations and tons of Mexican flair with plenty of space for safe distancing.
6308 N. 10th St. Ste. 50
Photo Courtesy of The Style Union Facebook.
Edgy, chic, and sophisticated, items from The Style Union will have everyone asking, "Where did you get that?" Here, you'll find the perfect gifts for that special person in your life who always has a mocha in one hand and her purse in the other!
4917 N. 10th St.
Photo Courtesy of By Maxwell Facebook.
This is a one-stop-shop for those looking for salon services and luxury shopping items. Not only do they have a luxurious salon that goes above and beyond for clients, but their boutique also has chic luxury fashion that you won't find anywhere else. Their handbags, apparel, and accessories are carefully and specially curated and chosen by the By Maxwell team.
5011 N. 10th  St.
Photo Courtesy of Quips 'N' Quotes Facebook.
Coffee and shopping? Yes, please! Quips 'N' Quotes has a large collection of fine gifts from brands like Vera Bradley, Demdaco, Enesco, Hallmark, YETI, Yellowbox Shoes, Cross Pens, Melissa & Doug Toys, TY, DaVinci Beads, Hello Kitty, Swarovski, Godiva, Funko, CBD products, and COVID-19 essentials.
4317 N. 10th St.
Photo Courtesy of Barn White Facebook.
If you're looking for home decor for yourself or someone else, then Barn White is your go-to spot. For the holidays, they have an entire wall of cute holiday ornaments to make your tree sparkle! They also have great plating options, candles, jewelry, creams, and cute eclectic items that you won't find anywhere else!
Shop in McAllen!
If we happened to miss your favorite McAllen shop, then let us know on social media! Follow Explore McAllen on Facebook, Twitter, and Instagram!