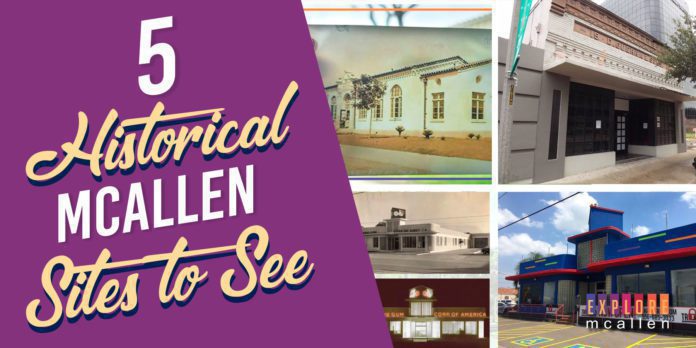 McAllen living has advanced in so many ways, it's hard to remember that it took hard work and effort of a community to build it together. As you go through your daily routine, see if you can spot these five buildings around the city today and what their original purpose was in the past 100 years.

Paris Bubblegum Factory
609 Hwy 83
Did you know the "Bubble Gum King" lived in McAllen?! Andrew J Paris came to McAllen in the early 40s from Detroit, Michigan. Paris launched one of the biggest trends in the business — the art of blowing bubbles. He even taught a young Natalie Wood in preparation for her role in "A Miracle on 34th Street." He made bubble gum accessible to everyone and his goal was to create a stateside factory. He bought the property shown above from an automobile company and constructed, The Paris Gum Corp of America. Today, this business is the TrappedRGV Escape room, a place where people are enjoying life together.
McAllen D Guerra & Sons Grocery Store
116 17th St.
In 1908, three Guerra brothers from Starr County went to San Antonio to sell some mules. With the profits from that sale, they returned to the valley and opened a ranching and mercantile store for the Hispanic community in downtown McAllen. D. Guerra & Sons Grocery Store opened in 1912.
Some 100 years later, Guerra family descendants have revived this site on 17th Street, historically known as "Guerra Street". Arturo and Che Guerra carefully refurbished, renovated, and re-created the elements and spirit of the Guerra history in downtown McAllen creating…… Can you guess it? The
Patio on Guerra!
Photo courtesy of Chamber of Commerce.
Casa De Palmas Hotel
101 N Main St.
A hotel that has stood the test of time, the Casa De Palmas Hotel was initially opened in 1918. In the past 100 years, many world-renowned guests have stayed at the hotel, including Marlon Brando, Pedro Infante, Bob Hope, and Former President Lyndon B. Johnson to name a few. Now you can relive the nostalgic luxury yourself at a weekend getaway with many amenities to enjoy.
Band Stand in Archer Park
101 N. Main St.
Named after former McAllen mayor and marshal Oliver Percy Archer, this park officially opened in 1917. Archer is credited for co-founding the Rio Grande Valley Hotel Corporation, opening Casa De Palmas hotel, and opening the first car dealership and ice cream parlor. In the 1920s, residents would listen to music at the famous bandstand, and over 100 years later we are keeping the tradition alive with annual events including the McAllen Food Park Unplugged and the McAllen Art Crawl with live music and vendors.
Fun fact: The McAllen Public Library was originally housed in the basement area of the bandstand!

McAllen Heritage Center
301 S Main St.
Located in downtown McAllen's historic "La Placita" building, a former post office that was constructed in 1935. A heritage center is a place where photos tell the story of McAllen's history from 110 years ago. Experience our city's roots in a relaxing environment and learn about the local artists from long ago. Admissions to this historical building are free, so grab your family and show your support.
Share Your McAllen Living Experiences!
Show us your favorite nostalgic areas of McAllen on our Facebook and Instagram!