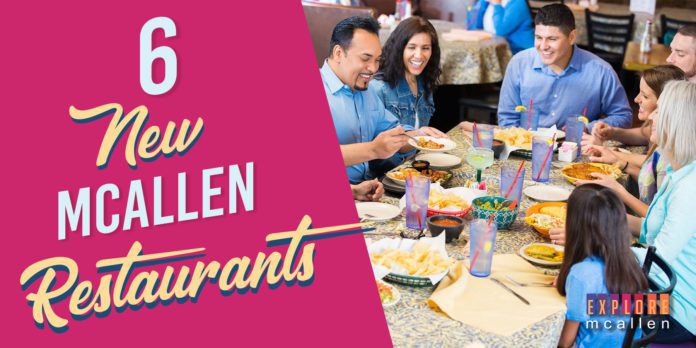 Are you dealing with #MiddayCravings? Grab lunch from any of these new six McAllen Restaurants. Find more local and new places to eat on TikTok, Facebook and Instagram.
Make sure to Like and Follow us!
Photo courtesy of Restaurant News.

PJ's Coffee
(956) 450-3479
3732 Pecan Blvd.
If your family and friends need a pick-me-up, head over to PJ's Coffee, now located near South Texas College. This New Orleans-born coffee shop has made its way to McAllen. Relax in their rustic dine-in area or pick up your coffee from their drive-thru every day from 6 AM to 8 PM. PJ's Coffee offers:
Organic teas.
Breakfast pastries.
Hot, ice, frozen coffee beverages.
Tea Garden
(956) 664-9986
119 W. Nolana Ave.
Tea Garden has expanded its business to Nolana! This unique tea shop is run by a mother-daughter duo, serving authentic boba tea and Vietnamese cuisine in South Texas since 2020. They are now open Wednesday through Monday from 8 AM to 9 PM.
Picture courtesy of Facebook.

La Doble M Restauraunt and Bar
(956) 627-3745
4123 W. Expressway 83
Check out one of the newest bars in McAllen today! La Doble M Restaurant and Bar offers authentic Mexican cuisine and cocktails in a modern and upscale environment. Their hours of operation are:
Saturday from 2 PM to 2 AM
Sunday from 1 Pm to 10 PM
Thursday and Friday from 5 PM to 2 AM
Tuesday and Wednesday from 5 PM to 11 PM
Photo courtesy of Facebook.

El Pastor Grill
(956) 213-8383
600 N. 10th St.
This family-owned restaurant was established in 1966 in Reynosa, Tamaulipas, and has now opened a new location in McAllen. El Pastor Grill is known for cooking up some delicious cabrito, grilled meats, and seafood for over 70 years. Make sure to give them a visit soon!
Black Bear Diner
(530) 243-2327
600 W. Expressway 83
Originally from Mt. Shasta, California, Black Bear Diner has made its way to McAllen! Bring your family and friends to enjoy home-style comfort food in a fun, bear-themed environment during breakfast, lunch, and dinner.
Photo courtesy of Facebook.

Smokin Moon BBQ on Trenton (Opening Soon)
(956) 997-6328
One of the most anticipated openings to look forward to this Summer is Smokin Moon BBQ on Trenton. Be sure to familiarize yourself with their signature prime brisket with their most popular sides at their current location at La Plaza Mall. Keep an eye out for their opening date!
Show Us Exploring McAllen!
Enjoy Mcallen living, and be sure to check out our McAllen calendar of events to stay up to date with what to do in McAllen TX.