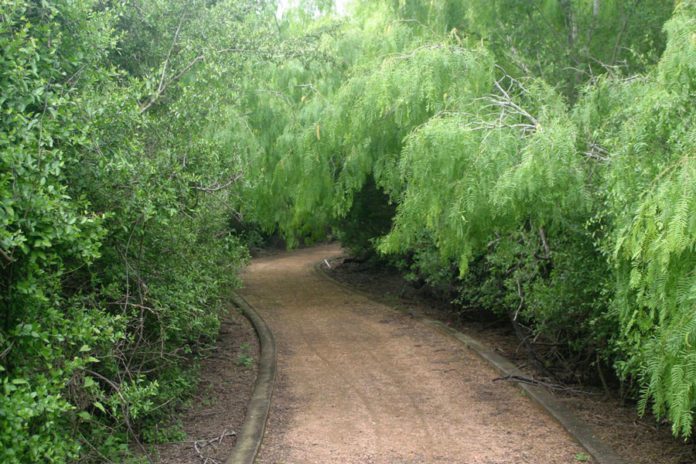 Photo courtesy of Facebook.
Easter is almost here, which means bunnies, spring weather, and Easter egg hunts for your children! Many of our parks offer places for you and your family to enjoy cookouts, relaxing shade from the sun, different amenities. Pick your favorite park to enjoy with your family this upcoming Easter weekend.
Photo courtesy of Facebook.

McAllen Nature Center
4101 W. US Business 83
Formerly known as the McAllen Botanical Gardens, the McAllen Nature Center is a nature preserve located at the epicenter of the city. Near the Convention Center, the McAllen Nature Center offers a place to bask in nature, take a small hike with your family, and celebrate the holiday!
Photo courtesy of Facebook.

Bill Schupp Park
1300 Zinnia Ave.
This nineteen-acre park has all you need to enjoy your Easter holiday with your family: merry-go-rounds, playgrounds, swings, walking trails, and more!
La Vista Park
100 W. La Vista Ave.
La Vista Park is the perfect place to accommodate your family for Easter. Take advantage of their:
Trails
BBQ Pits
Playground
Picnic Shelters
Volleyball Court
McAuliffe Park
3260 W. Daffodil Ave.
Take your family to enjoy McAuliffe Park's multi-use field, walking trails, and playground. While you hunt for your Easter eggs, you may even get to see ducks, or turtles swimming in the park pond. 
Photo courtesy of Facebook.

Zinnia Park
5201 N. 29th St.
If you're looking for a place to splash around with your family, take them to Zinnia Park Water Park. This park offers a swimming pool, splash pad, trails, and ample green space to hide your Easter eggs.
Municipal Park
1921 N. Bicentennial Blvd.
This twenty-seven-acre park is perfect for celebrating Easter with a family cookout. Take advantage of all the resources that Municipal Park has to offer:
Playgrounds
Outdoor Pool
Soccer Fields
Baseball Fields
Westside Park and Field
1000 S. Ware Rd.
Enjoy Easter weekend at another giant thirty-seven-acre park, filled with playgrounds, softball complex, picnic areas, and bar-be-que pavilions.
Explore McAllen Living Today
Easter is the perfect time to explore the outdoors with your family. Check out this complete list of parks around town and follow us on Facebook, Instagram, or Twitter for updates on Easter events around McAllen.