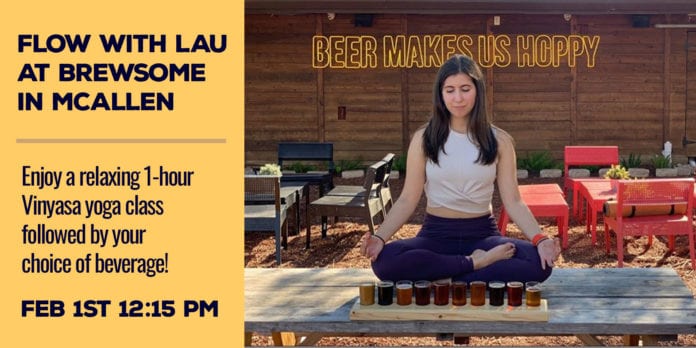 Saturday, February 1st
Ladies, bring your friends for a girl's day you won't want to miss! The Southern Roots Flower Market is having Galentine's Day at the Market from 12:00 PM until 5:30 PM. Enjoy complimentary mimosas, mini facials, and mini massages.
Beer Yoga at Brewsome Brewery is back! Get your ticket and enjoy an hour of vinyasa yoga, a locally brewed ale, and connect with the local yoga community. The fun starts at noon and tickets are available here.
Take part in the ancient martial arts, Tai Chi, and feel the effects on your balance, fitness, and flexibility. Tai chi in the Park happens every Saturday at 8:30 AM at the McAllen Nature Center.
The McAllen Farmer's Market is back at the McAllen Public Library. It provides consumers with locally grown produce, raw honey, a variety of baked goods, and handcrafted jewelry. The market will be held from 10:00 AM until 1:00 PM.

Sunday, February 2nd
South Texas' best wedding and quince professionals will be getting together at the McAllen Convention Center for the RGV Wedding and Quince Expo! Come see the latest wedding and quince trends, connect with leading vendors, and shop for the best deals and packages for your upcoming big day! Tickets are available here.
Wind down the weekend at The Yard with Beer Yoga! All levels of yoga are invited for the 60-minute session followed by a beer of your choice. It starts at 1:00 PM. Tickets are available here.
The Yard's Super Bowl Watch Party
Looking for somewhere to see Sunday's big game? Stop by The Yard at 5:00 PM and enjoy the big game along with $3 beers and micheladas, $4 hot dogs, and $2 mimosas all day long.
Suerte Bar & Grill's Super Bowl LIV Watch Party
Starting at 5:00 PM, the Super Bowl LIV Watch Party kicks off at Suerte Bar & Grill. Get there early for happy hour from 3:00 PM until 7:00 PM and enjoy $5 nachos and $2.25 Tecate Light all day.
The Flying Walrus 1st Annual Super Bowl Watch Party
Sunday, Sunday, Sunday! The Flying Walrus is having its 1st Annual Super Bowl Watch Party! Come see the game on all 15 TVs and enjoy free pool. Plus, bring your appetite as they'll have $7 BBQ plates, $2 domestics, and $3 imports all night long!